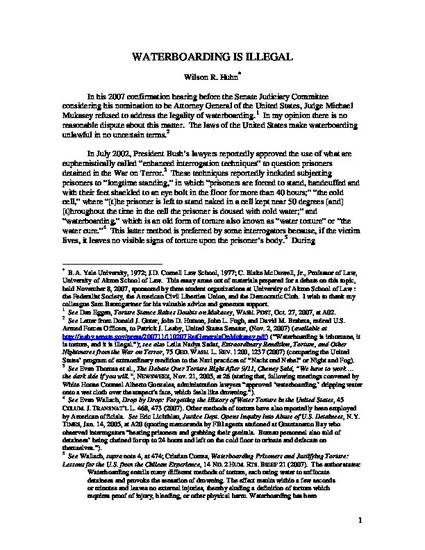 Article
Waterboarding is Illegal
Slip Opinions: The online supplement to Washington University Law Review (2008)
Abstract
In his 2007 confirmation hearing before the Senate Judiciary Committee considering his nomination to be Attorney General of the United States, Judge Michael Mukasey refused to address the legality of waterboarding. In my opinion there is no reasonable dispute about this matter. The laws of the United States make waterboarding unlawful in no uncertain terms.
Keywords
waterboarding,
torture,
enhanced interrogation techniques
Publication Date
May 10, 2008
Citation Information
Wilson R. Huhn,
Waterboarding is Illegal
,
Slip Opinions
: The online supplement to Washington University Law Review (2008).