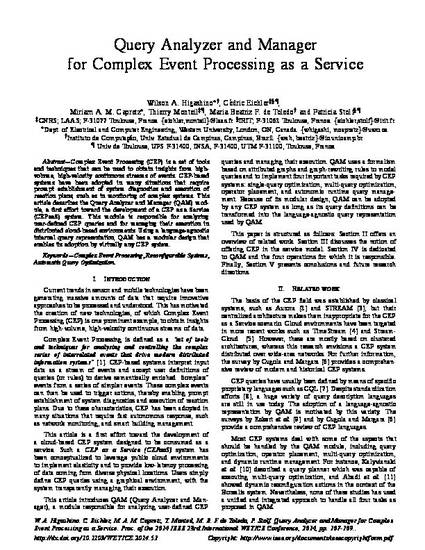 Article
Query Analyzer and Manager for Complex Event Processing as a Service
Proceedings of the AROSA 2014 track of the 23rd IEEE WETICE Conference
Document Type
Conference Proceeding
Publication Date
6-1-2014
URL with Digital Object Identifier
http://dx.doi.org/10.1109/WETICE.2014.53
Abstract
Complex Event Processing (CEP) is a set of tools and techniques that can be used to obtain insights from high-volume, high-velocity continuous streams of events. CEP-based systems have been adopted in many situations that require prompt establishment of system diagnostics and execution of reaction plans, such as in monitoring of complex systems. This article describes the Query Analyzer and Manager (QAM) module, a first effort toward the development of a CEP as a Service (CEPaaS) system. This module is responsible for analyzing user-defined CEP queries and for managing their execution in distributed cloud-based environments. Using a language-agnostic internal query representation, QAM has a modular design that enables its adoption by virtually any CEP system.
Citation Information
Wilson Higashino, Cedric Eichler, Miriam A M Capretz, Thierry Monteil, et al.. "Query Analyzer and Manager for Complex Event Processing as a Service"
Proceedings of the AROSA 2014 track of the 23rd IEEE WETICE Conference
(2014)
Available at: http://works.bepress.com/wilson_higashino/4/