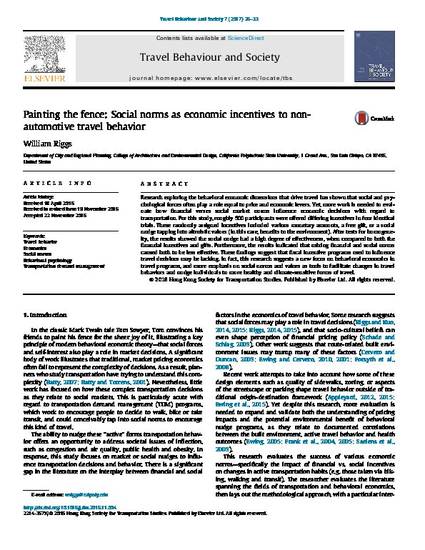 Article
Painting the fence: Social norms as economic incentives to nonautomotive travel behavior
Travel Behaviour and Society (2017)
Abstract
Research exploring the behavioral economic dimensions that drive travel has shown that social and psychological forces often play a role equal to price and economic levers. Yet, more work is needed to evaluate how financial verses social market norms influence economic decisions with regard to transportation. For this study, roughly 500 participants were offered differing incentives in four identical trials. These randomly assigned incentives included various monetary amounts, a free gift, or a social nudge tapping into altruistic values (in this case, benefits to the environment). After tests for homogeneity, the results showed the social nudge had a high degree of effectiveness, when compared to both the financial incentives and gifts. Furthermore, the results indicated that mixing financial and social norms caused both to be less effective. These findings suggest that fiscal incentive programs used to influence travel decisions may be lacking. In fact, this research suggests a new focus on behavioral economics in travel programs, and more emphasis on social norms and values as tools to facilitate changes in travel behaviors and nudge individuals to more healthy and climate-sensitive forms of travel.
Keywords
travel behavior,
behavioral economics,
social norms,
psychology
Publication Date
Winter 2017
DOI
10.1016/j.tbs.2016.11.004
Citation Information
William W Riggs. "Painting the fence: Social norms as economic incentives to nonautomotive travel behavior"
Travel Behaviour and Society
Vol. 7 (2017) p. 26 - 33
Available at: http://works.bepress.com/williamriggs/70/