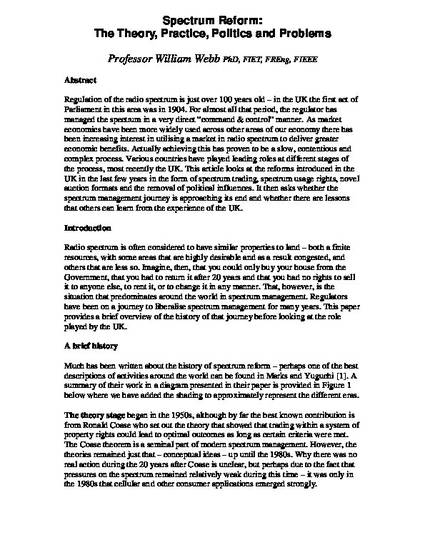 Unpublished Paper
Spectrum Reform: The Theory, Practice, Politics and Problems
ExpressO (2009)
Abstract
Regulation of the radio spectrum is just over 100 years old – in the UK the first act of Parliament in this area was in 1904. For almost all that period, the regulator has managed the spectrum in a very direct "command & control" manner. As market economics have been more widely used across other areas of our economy there has been increasing interest in utilising a market in radio spectrum to deliver greater economic benefits. Actually achieving this has proven to be a slow, contentious and complex process. Various countries have played leading roles at different stages of the process, most recently the UK. This article looks at the reforms introduced in the UK in the last few years in the form of spectrum trading, spectrum usage rights, novel auction formats and the removal of political influences. It then asks whether the spectrum management journey is approaching its end and whether there are lessons that others can learn from the experience of the UK.
Keywords
Spectrum,
Regulation,
Radio,
Wireless,
Property Rights,
Auctions
Publication Date
April 21, 2009
Citation Information
William T Webb. "Spectrum Reform: The Theory, Practice, Politics and Problems"
ExpressO
(2009)
Available at: http://works.bepress.com/william_webb/1/