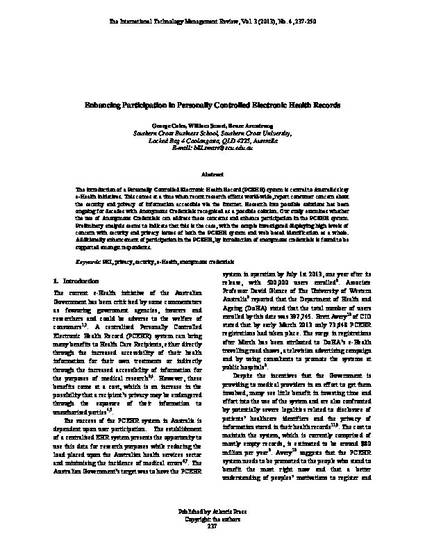 Article
Enhancing participation in personally controlled electronic health records
The International Technology Management Review
Publication Date
1-1-2013
Abstract
The introduction of a Personally Controlled Electronic Health Record (PCEHR) system is central to Australia's key e-Health initiatives. This comes at a time when recent research efforts world-wide, report consumer concern about the security and privacy of information accessible via the Internet. Research into possible solutions has been ongoing for decades with Anonymous Credentials recognised as a possible solution. Our study examines whether the use of Anonymous Credentials can address these concerns and enhance participation in the PCEHR system. Preliminary analysis seems to indicate that this is the case, with the sample investigated displaying high levels of concern with security and privacy issues of both the PCEHR system and web based identification as a whole. Additionally enhancement of participation in the PCEHR, by introduction of anonymous credentials is found to be supported amongst respondents.
Citation Information
Coles, G, Smart, W & Armstrong, B 2013, 'Enhancing participation in personally controlled electronic health records', The International Technology Management Review, vol. 3, no. 4, pp. 237-250.