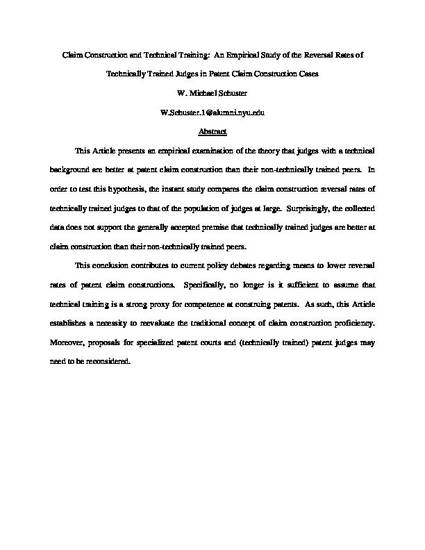 Unpublished Paper
Claim Construction and Technical Training: An Empirical Study of the Reversal Rates of Technically Trained Judges in Patent Claim Construction Cases
ExpressO (2011)
Abstract
This Article presents an empirical examination of the theory that judges with a technical background are better at patent claim construction than their non-technically trained peers. In order to test this hypothesis, the instant study compares the claim construction reversal rates of technically trained judges to that of the population of judges at large. Surprisingly, the collected data does not support the generally accepted premise that technically trained judges are better at claim construction than their non-technically trained peers. This conclusion contributes to current policy debates regarding means to lower reversal rates of patent claim constructions. Specifically, no longer is it sufficient to assume that technical training is a strong proxy for competence at construing patents. As such, this Article establishes a necessity to reevaluate the traditional concept of claim construction proficiency. Moreover, proposals for specialized patent courts and (technically trained) patent judges may need to be reconsidered.
Publication Date
March 1, 2011
Citation Information
William M. Schuster. "Claim Construction and Technical Training: An Empirical Study of the Reversal Rates of Technically Trained Judges in Patent Claim Construction Cases"
ExpressO
(2011)
Available at: http://works.bepress.com/william_schuster/2/