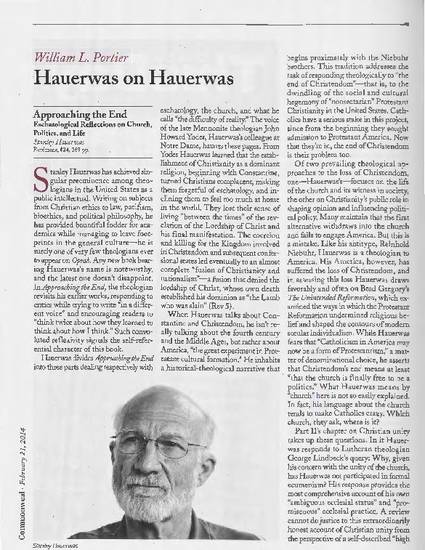 Article
Hauerwas on Hauerwas: Review of 'Approaching the End: Eschatological Reflections on Church, Politics, and Life'
Commonweal
Publication Date
2-21-2014
Abstract
Stanley Hauerwas has achieved singular preeminence among theologians in the United States as a public intellectual. Writing on subjects from Christian ethics to law, pacifism, bioethics, and political philosophy, he has provided bountiful fodder for academics while managing to leave footprints in the general culture-he is surely one of very few theologians ever to appear on Oprah. Any new book bearing Hauerwas' name is noteworthy, and the latest one doesn't disappoint.
Copyright
Copyright © 2014, Commonweal.
Place of Publication
New York, NY
Citation Information
William L. Portier. "Hauerwas on Hauerwas: Review of 'Approaching the End: Eschatological Reflections on Church, Politics, and Life'"
Commonweal
Vol. 141 Iss. 4 (2014)
Available at: http://works.bepress.com/william_portier/7/