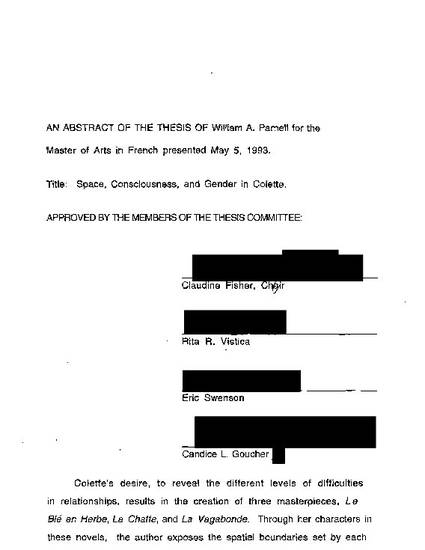 Thesis
Space, Consciousness, and Gender in Colette
Dissertations and Theses
Sponsor
Portland State University. Department of World Languages and Literatures
Degree Name
Master of Arts (M.A.) in French
Department
World Languages and Literatures
Physical Description
3, 84 leaves ; 28 cm.
Subjects
Colette -- 1873-1954 -- Criticism and interpretation
Abstract
Colette's desire, to reveal the different levels of difficulties in relationships, results in the creation of three masterpieces, L e Ble en Herbe, La Chatte, and La Vagabonde. Through her characters in these novels, the author exposes the spatial boundaries set by each couple. Also, she concentrates on the maturation of the protagonists. The woman's function in society transforms as she gains personal power, and she becomes self-reliant. Finally, Colette evades sexual stereotyping by introducing the reader to the issues of gender and androgyny. She helps to dispel the sexual myths around the. idea of normal stereotyping. Themes such as male and female physical characteristics and related "socially acceptable" behaviors are addressed. In general, these works clarify ideas about the way in which individuals associate with one other. Chapter I will analyze the spatial limitations created by the protagonists. It will examine two binary oppositions, "in/out" and "dream-world/reality". The "in/out" opposition will focus on both physical and mental spaces, whereas the "dream-world/reality" opposition will magnify tangible and unreal spaces. This chapter's objective is to demonstrate the uses of territorial boundaries and deduce their affects in relationships. Chapter II will investigate the association between Colette's characters and the liberation of womankind. The aim is to examine the female characters' growth in regard to the society around her. As well, obtaining personal power and the concept of empowerment is treated ~y studying the use of the female voice. This chapter will show a recurring theme of women overcoming the forces of patriarchy and moving beyond the confines of societal rules. Chapter III will study the issue of gender and androgyny in Colette's characters. It will bring to light Colette's use of gender roles, and the way in which her protagonists search out an identity and learn about themselves. Finally, this chapter will cover gender stereotypes and Colette's contemporary view of such an issue. In summary, the novels to be treated, Le Ble en Herbe, La Chatte, and La Vagabonde, will move through three different levels of development in the growth of the characters, from adolescence through young adulthood and into maturity. This notion will be utilized in each chapter and will demonstrate Colette's theme of relationships which spirals out of three connected ideas, space, consciousness and gender.
Persistent Identifier
http://archives.pdx.edu/ds/psu/9629
Citation Information
William A. Parnell. "Space, Consciousness, and Gender in Colette" (1993)
Available at: http://works.bepress.com/william_parnell/7/