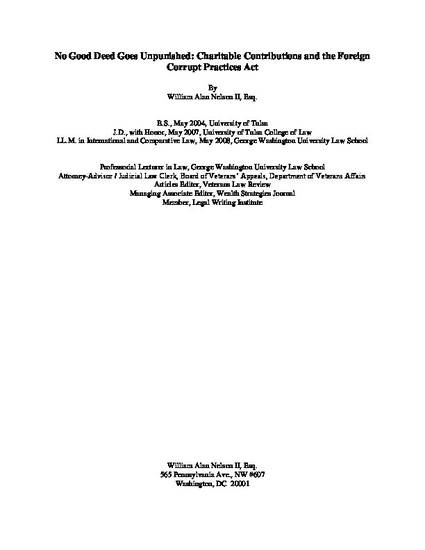 Article
No Good Deed Goes Unpunished: Charitable Contributions and the Foreign Corrupt Practices Act
Depaul Business and Commercial Law Journal (2013)
Abstract
The area of charitable contributions under the Foreign Corrupt Practices Act ("FCPA") is an ambiguous area of law where liability for companies can be enormous. This article examines the challenges companies face under the FCPA when making charitable contributions. It provides an in-depth analysis of the Schering-Plough case, which illustrates how the Securities and Exchange Commission ("SEC") applies the record-keeping provisions of the FCPA in a situation of charitable giving; it examines Department of Justice ("DOJ") FCPA Review Opinion Procedure Releases that provide guidance on when companies' charitable contributions will violate the anti-bribery provisions of the FCPA; it discusses the effect of "compelled giving" laws, which require that foreign companies must agree to invest an established percentage of the profits from each contract into the community in which it operates; and it provides hypothetical situations illustrating the broad array of problems arising under the FCPA for companies making charitable contributions.
The article also looks at corporate social responsibility ("CSR") in the context of FCPA enforcement. It provides hypothetical situations illustrating companies' use of CSR to disguise acts of bribery and examines any "chilling effect" that the FCPA has on companies' charitable giving. This discussion is especially timely in light of the natural disasters in Haiti in 2010 and Japan in 2011. Most companies do not view charitable contributions as an area of risk in their respective FCPA and anti-corruption compliance programs. The article proposes a model FCPA compliance program for charitable contributions, including the creation of a Charitable Contributions Compliance Committee, and presents a roadmap for the due diligence required to minimize liability under the FCPA when making charitable contributions.
Publication Date
Winter 2013
Citation Information
William Alan Nelson II,
No Good Deed Goes Unpunished: Charitable Contributions and the Foreign Corrupt Practices Act
, 11
DEPAUL BUS. & COMM. L.J.
331 (2013)