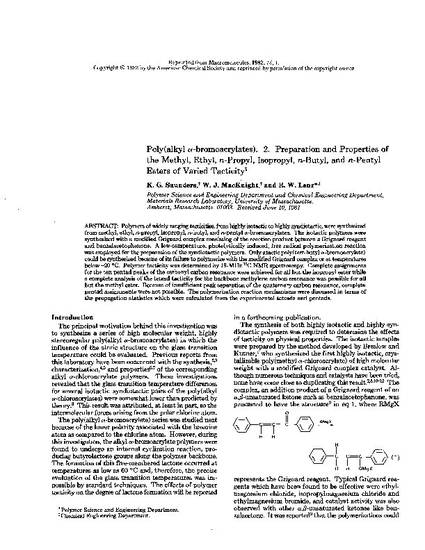 Article
Poly(alkyl alpha-bromoacrylates). 2. Preparation and Properties of the Methyl, Ethyl, n-Propyl, Isopropyl, n-Butyl, and n-Pentyl Esters of Varied Tacticity
Macromolecules (1982)
Abstract
Polymers of widely ranging t.acticities, from highly isot.actic to highly syndiotactic, were synthesized from methyl, ethyl, n-propyl, iaopropyl, n-butyl, and n-pentyl a-bromoacrylates. The iaotactic polymers were synthesized with a modified Grignard complex consisting of the reaction product between a Grignard reagent and benzalacetophenone. A low-temperature, photolytically induced, free radical polymerization reaction was employed for the preparation of the syndiotactic polymers. Only atactic poly(tert-butyl a-bromoacrylate) could be synthesized because of its failure to polymerize with the modified Grignard complex or at temperatures below -20 °C. Polymer tacticity was determined by 19-MHz 13C NMR spectroscopy. Complete assignment.a for the ten pent.ad peaks of the carbonyl carbon resonance were achieved for all but the isopropyl ester while a complete analysis of the tetrad tacticity for the backbone methylene carbon resonance was possible for all but the methyl ester. Because of insufficient peak separation of the quaternary carbon resonance, complete pent.ad assignment.a were not possible. The polymerization reaction mechanisms were discussed in terms of the propagation statistics which were calculated from the experimental tetrads and pent.ads.
Keywords
Poly(alkyl alpha-bromoacrylates),
Preparation,
Properties,
Methyl,
Ethyl,
n-Propyl,
Ispropyl,
n-Butyl,
n-Pentyl,
Esters,
Varied Tacticity
Citation Information
William MacKnight, K. G. Saunders and R. W. Lenz. "Poly(alkyl alpha-bromoacrylates). 2. Preparation and Properties of the Methyl, Ethyl, n-Propyl, Isopropyl, n-Butyl, and n-Pentyl Esters of Varied Tacticity"
Macromolecules
Vol. 15 (1982) p. 1 - 10
Available at: http://works.bepress.com/william_macknight/96/