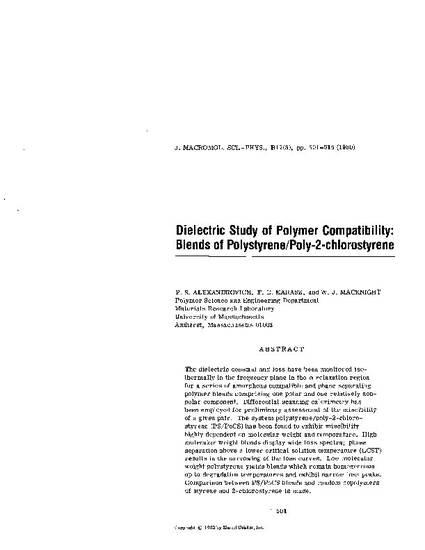 Article
Dielectric Study of Polymer Compatibility: Blends of Polystyrene/Poly-2-chlorostyrene
Journal of Macromolecular Science, Part B (1980)
Abstract
The dielectric constant and loss have been monitored iso­thermally in the frequency plane in the a relaxation region for a series of amorphous compatible and phase separating polymer blends comprising one polar and one relatively non­polar component. Differential scanning calorimetry has 
been employed for preliminary assessment of the miscibility of a given pair. The system polystyrene/poly-2-chloro­styrene (PS/PoCS) has been found to exhibit miscibility highly dependent on molecular weight and temperature. High molecular weight blends display wide loss spectra; phase separation above a lower critical solution temperature (LCST) results in the narrowing of the loss curves. Low molecular weight polystyrene yields blends which remain homogeneous up to degradation temperatures and exhibit narrow loss peaks. Comparison between PS/PoCS blends and random copolymers of styrene and 2-chlorostyrene is made. 
Keywords
Dielectric Study,
Polymer Compatibility,
Polystyrene/Poly-2-chlorostyrene,
Blends
Citation Information
William MacKnight, P. Alexandrovich and F. E. Karasz. "Dielectric Study of Polymer Compatibility: Blends of Polystyrene/Poly-2-chlorostyrene"
Journal of Macromolecular Science, Part B
(1980) p. 501 - 516
Available at: http://works.bepress.com/william_macknight/79/