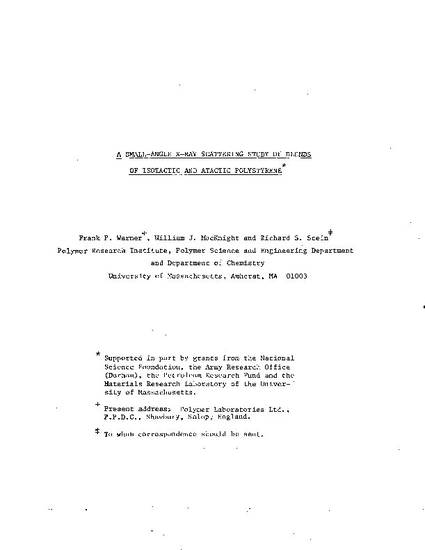 Article
A Small-Angle X-Ray Scattering Study of Blends of Isotactic and Atactic Polystyrene
Journal of Polymer Science: Physics Edition (1977)
Abstract
The small angle x-ray scattering from blends of isotactic and atactict polystyrene has been studied. Results have been interpreted and c􀀆ompared using the Tsvankin, Vonk and Hosemann techniques. The studies suggest that segregation of the atactic component occurs during crystallization within the growing spherulite of the isotactic component. However, since the interlamellar distance does not increase with atactic content, segre­gation is believed to occur with the formation of domains larger than iu­t􀀙rlamellar but smaller than spherulite size.
Keywords
Small-Angle,
X-Ray,
Scattering,
blends of Isotactic,
Atactic Polystyrene
Citation Information
William MacKnight, Frank P. Warner and Richard S. Stein. "A Small-Angle X-Ray Scattering Study of Blends of Isotactic and Atactic Polystyrene"
Journal of Polymer Science: Physics Edition
(1977) p. 2113
Available at: http://works.bepress.com/william_macknight/59/