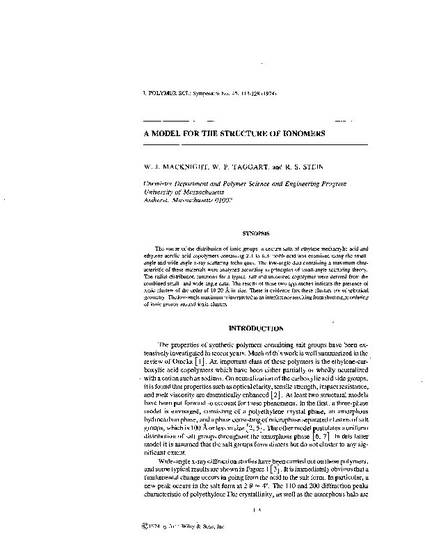 Article
A Model for the Structure of Ionomers
Journal of Polymer Science: Symposium (1974)
Abstract
The nature of the distribution of ionic groups in cesium salts of ethylene-methacrylic acid and ethylene-acrylic acid copolymers containing 2.1 to 6.3 mo!% acid was examined using the small­angle and wide-angle x-ray scattering techniques. The low-angle data containing a maximum char­acteristic of these materials were analyzed according to principles of small-angle scattering theory. The radial distribution functions for a typical salt and unionized copolymer were derived from the combined small- and wide-angle data. The results of these two approaches indicate the presence of ionic clusters of the ori:ler of 10-20 A in size. There is evidence that these clusters are of spherical geometry. The low-angle maximum is interpreted as an interference resulting from short range ordering of ionic groups around ionic clusters. 
Keywords
Model,
Structure,
Ionomers
Citation Information
William MacKnight, W. P. Taggart and R. S. Stein. "A Model for the Structure of Ionomers"
Journal of Polymer Science: Symposium
Iss. 45 (1974) p. 113 - 128
Available at: http://works.bepress.com/william_macknight/41/