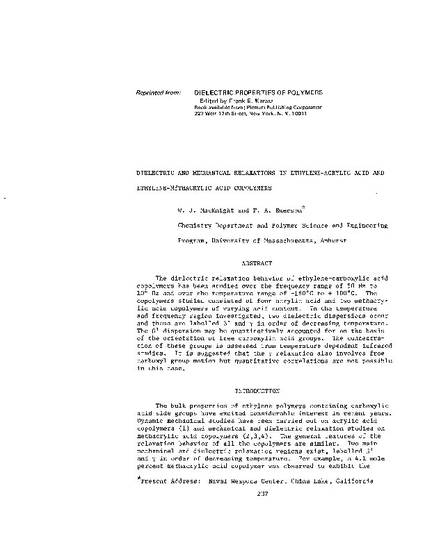 Article
Dielectric and Mechanical Relaxations in Ethylene-Acrylic Acid and Ethylene-Methacrylic Acid Copolymers
Dielectric Properties of Polymers (1972)
Abstract
The dielectric relaxation behavior of ethylene-carboxylic acid copolymers has been studied over the frequency ° range of °SO Hz to 10 f Hz and over the temperature range of -160 C to+ 100 C. The copolymers studied consisted of four acrylic acid and two methacry­lic acid copolymers of varying acid content. In the temperature and frequency region investigated, two dielectric dispersions occur and these are labelled B' and yin order of decreasing temperature. The B' dispersion may be quantitatively accounted for on the basis of the orientation of free carboxylic acid groups. The concentra­tion of these groups is assessed from temperature dependent infrared studies. It is suggested that they relaxation also involves free carboxyl group motion but quantitative correlations are not possible in this case. 
Keywords
Dielectric,
Mechanical,
Relaxations,
Ethylene-Methacrylic,
Acid,
Ethylene-Acrylic,
Acid Copolymers
Citation Information
William MacKnight and F. A. Emerson. "Dielectric and Mechanical Relaxations in Ethylene-Acrylic Acid and Ethylene-Methacrylic Acid Copolymers"
Dielectric Properties of Polymers
(1972) p. 237 - 253
Available at: http://works.bepress.com/william_macknight/36/