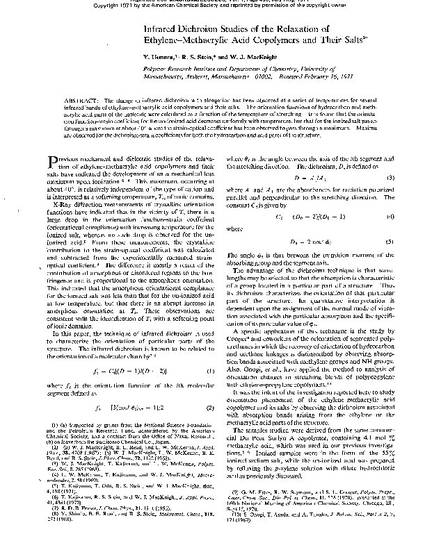 Article
Infrared Dichroism Studies of the Relaxation of Ethylene-Methacrylic Acid Copolymers and Their Salts
Macromolecules (1971)
Abstract
The change in infrared dichroism with elongation has been observed at a series of temperatures for several infrared bands of ethylene-methacrylic acid copolymers and their salts. The orientation functions of hydrocarbon and meth­acrylic acid parts of the molecule were calculated as a function of the temperature of stretching. It is found that the orienta­tion function-strain coefficient for the un-ionized acid decreases uniformly with temperature, but that for the ionized salt passes through a maximum at about 40° where the strain-optical coefficient has been observed to pass through a maximum. Maxima are observed for the dichroism-strain coefficients for both the hydrocarbon and acid parts of the structure. 
Keywords
Infrared Dichroism,
Relaxation,
Ethylene-Methacrylic,
Acid Copolymers,
Salts
Citation Information
William MacKnight, Y. Uemura and R. S. Stein. "Infrared Dichroism Studies of the Relaxation of Ethylene-Methacrylic Acid Copolymers and Their Salts"
Macromolecules
(1971) p. 490 - 494
Available at: http://works.bepress.com/william_macknight/35/