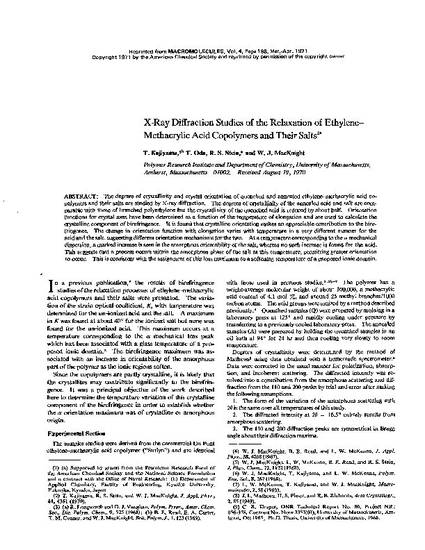 Article
X-Ray Diffraction Studies of the Relaxation of Ethylene-Methacrylic Acid Copolymers and Their Salts
Macromolecules (1971)
Abstract
The degrees of crystallinity and crystal orientation of quenched and annealed ethylene-methacrylic acid co­ polymers and their salts are studied by X-ray diffraction. The degrees of crystallinity of the annealed acid and salt are com­parable with those of branched polyethylene but the crystallinity of the quenched acid is reduced by about half. Orientation functions for crystal axes have been determined as a function of the temperature of elongation and are used to calculate the crystalline component of birefringence. It is found that crystalline orientation makes an appreciable contribution to the bire­fringence. The change in orientation function with elongation varies with temperature in a very different manner for the acid and the salt, suggesting different orientation mechanisms for the two. At a temperature corresponding to the a mechanical dispersion, a marked increase is seen in the amorphous orientability of the salt, whereas no such increase is found for the acid. This suggests that a process occurs within the amorphous phase of the salt at this temperature, permitting greater orientation to occur. This is consistent with the assignment of this loss maximum to a softening temperature of a proposed ionic domain. 
Keywords
X-Ray,
Diffraction,
Relaxation,
Ethylene-Methacrylic,
Acid Copolymers,
Salts
Citation Information
William MacKnight, T. Kajiyama, T. Oda and R. S. Stein. "X-Ray Diffraction Studies of the Relaxation of Ethylene-Methacrylic Acid Copolymers and Their Salts"
Macromolecules
Vol. 4 (1971) p. 198 - 203
Available at: http://works.bepress.com/william_macknight/32/