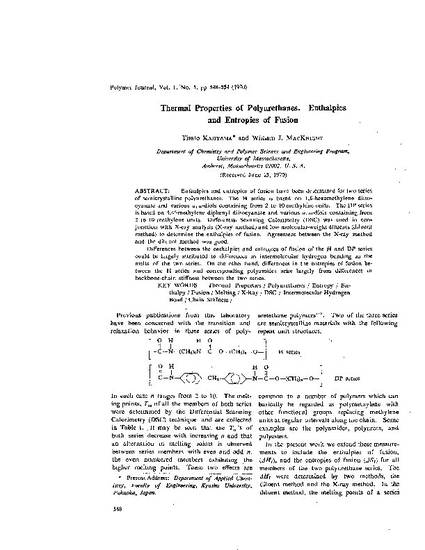 Article
Thermal Properties of Polyurethanes. Enthalpies and Entropies of Fusion
Polymer Journal (1970)
Abstract
Enthalpies and entropies of fusion have been determined for two series of scmicrystalline polyurethanes. The H series is based on 1,6-hexamethylene diiso­cyanate and various a, 01-diols containing from 2 to 10 methylene units. The DP series is based on 4,4'-methylene diphenyl diisocyanate and various a, m-diols containing from 2 to 10 methylene units. Differential Scanning Calorimetry (DSC) was used in con­j unction with X-ray analysis (X-ray method) and low molecular-weight diluents (diluent method) to determine the enthalpies of fusion. Agreement between the X-ray method and the diluent method was good. 
Differences between the enthalpies and entropies of fusion of the H and DP series could be largely attributed to differences in intermolecular hydrogen bonding in the melts of the two series. On the other hand, differences in the entropies of fusion be­tween the H series and corresponding polyamides arise largely from differences in backbone-chain stiffness between the two series. 
Keywords
thermal properties,
polyurethanes,
enthalpies,
entropies,
fusion,
melting,
x-ray,
DSC,
Intermolecular Hydrogen Bond,
Chain Stiffness
Citation Information
William MacKnight and T. Kajiyama. "Thermal Properties of Polyurethanes. Enthalpies and Entropies of Fusion"
Polymer Journal
Vol. 1 Iss. 5 (1970) p. 548 - 554
Available at: http://works.bepress.com/william_macknight/29/