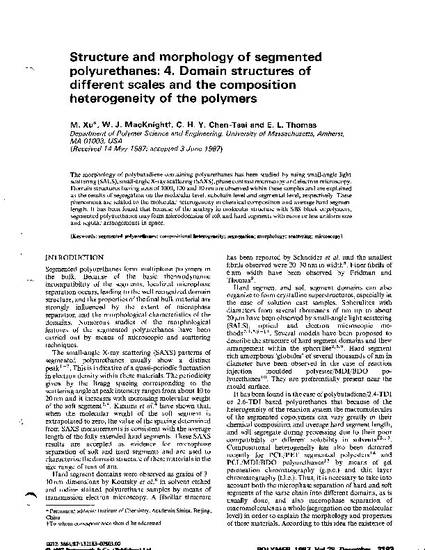 Article
Structure and morphology of segmented polyurethanes: 4. Domain structures of different scales and the composition heterogeneity of the polymers
Polymer (1987)
Abstract
The morphology of polybutadiene containing polyurethanes has been studied by using small-angle light
scattering (SALS), small-angle X-ray scattering (SAXS), phase contrast microscopy and electron microscopy.
Domain structures having sizes of 1000, 100 and 10 nm are observed within these samples and are explained
as the results of segregation on the molecular level, subchain level and segmental level, respectively. These
phenomena are related to the molecular heterogeneity in chemical composition and average hard segment
length. It has been found that because of the analogy in molecular structure with SBS block copolymers,
segmented polyurethanes may form microdomains of soft and hard segments with more or less uniform size
and regular arrangements in space.
Keywords
segmented polyurethanes,
compositional heterogeneity,
segregation,
morphology,
scattering,
microscopy
Citation Information
William MacKnight, M. Xu, C. H. Y. Chen Tsai and E. L. Thomas. "Structure and morphology of segmented polyurethanes: 4. Domain structures of different scales and the composition heterogeneity of the polymers"
Polymer
Vol. 28 (1987) p. 2183 - 2189
Available at: http://works.bepress.com/william_macknight/252/