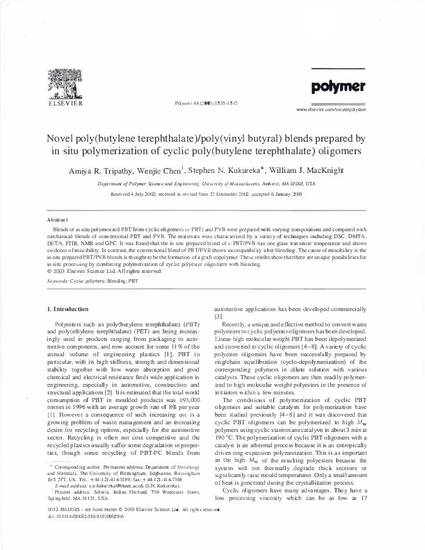 Article
Novel poly(butylene terephthalate)/poly(vinyl butyral) blends prepared by in situ polymerization of cyclic poly(butylene terephthalate) oligomers
Polymer (2003)
Abstract
Blends of in situ polymerized PBT from cyclic oligomers (c-PBT) and PYB were prepared with varying compositions and compared with mechanical blends of conventional PBT and PVB. The materials were characterized by a variety of techniques including DSC. DMTA. DETA, FrIR, NMR and GPC. It was found that the in situ prepared blend of c-PBT/PYB has one glass transition temperature and shows evidence of miscibility. In contrast, the conventional blend of PBT/PYB shows incompatibility after blending. The cause of miscibility in the in situ prepared PBT/PYB blends is thought to be the formation of a graft copolymer. These results show that there are unique possibilities for in situ processing by combining polymerization of cyclic polyester oligomers with blending. 
Keywords
Cyclic polymers,
Blending,
PBT
Citation Information
William MacKnight. "Novel poly(butylene terephthalate)/poly(vinyl butyral) blends prepared by in situ polymerization of cyclic poly(butylene terephthalate) oligomers"
Polymer
Iss. 44 (2003) p. 1835 - 1842
Available at: http://works.bepress.com/william_macknight/235/