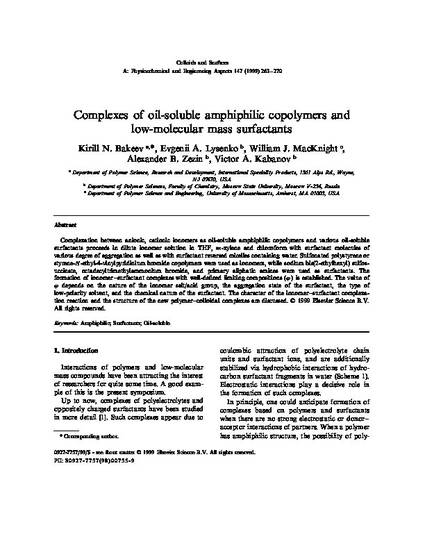 Article
Complexes of oil-soluble amphiphilic copolymers and low-molecular mass surfactants
Colloids and Surfaces A: Physiochemical and Engineering Aspects (1999)
Abstract
Complexation between anionic, cationic ionomers as oil-soluble amphiphilic copolymers and various oil-soluble surfactants proceeds in dilute ionomer solution in THF, m-xylene and chloroform with surfactant molecules of various degree of aggregation as well as with surfactant reversed micelles containing water. Sulfonated polystyrene or styrene-N-ethyl-4-vinylpyridinium bromide copolymers were used as ionomers, while sodium bis(2-ethylhexyl) sulfos-uccinate, octadecyltrimethylammonium bromide, and primary aliphatic amines were used as surfactants. The formation of ionomer–surfactant complexes with well-defined limiting compositions (􀀁) is established. The value of 􀀁 depends on the nature of the ionomer salt:acid group, the aggregation state of the surfactant, the type of low-polarity solvent, and the chemical nature of the surfactant. The character of the ionomer–surfactant complexa-tion reaction and the structure of the new polymer–colloidal complexes are discussed. 
Keywords
Amphiphilic,
Surfactants,
Oil-soluble
Citation Information
William MacKnight, Kirill N. Bakeev, Evgenii A. Lysenko, Alexander B. Zezin, et al.. "Complexes of oil-soluble amphiphilic copolymers and low-molecular mass surfactants"
Colloids and Surfaces A: Physiochemical and Engineering Aspects
Iss. 147 (1999) p. 263 - 270
Available at: http://works.bepress.com/william_macknight/220/