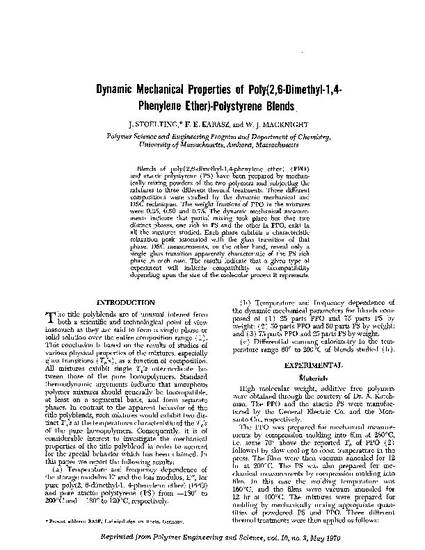 Article
Dynamic Mechanical Properties of Poly(2, 6-Dimethyl-1,4-Phenylene Ether)-Polystyrene Blends
Polymer Engineering and Science (1970)
Abstract
Blends of poly(2,6-dimethyl-l,4-phenylene ether) (FPO) and a tactic polystyrene (PS) have been prepared by mechan­ically mixing powders of the two polymers and subjecti􀀇ng the mixtures to three different thermal treatments. Three different 
compositions were studied by the dynamic m􀀋echaniac􀀌l and DSC techniques. The weight fractions of FPO m the mixtures 
were 0.25, 0.50 and 0.75. The dynamic mechanical measure­
ments indicate that partial mixing took place but that two 
distinct phases, one rich in PS and the other in FPO, exis􀀕 􀀖n all the mixtures studied. Each phase exhibits a charactenstlc 
relaxation peak associated with the glass transition of that 
phase. DSC measurements, on the other 􀀛a􀀝d, reveal on])'. a single glass transition apparently charactensbc of the PS nch 
phase in each case. The results indicate that a given type of experiment will indicate compatibility or incompatibility depending upon the size of the molecular process it represents.
Keywords
porperties,
polystyrene,
blends
Citation Information
William MacKnight, J. Stoelting and F. E. Karasz. "Dynamic Mechanical Properties of Poly(2, 6-Dimethyl-1,4-Phenylene Ether)-Polystyrene Blends"
Polymer Engineering and Science
Vol. 10 (1970) p. 133 - 138
Available at: http://works.bepress.com/william_macknight/20/