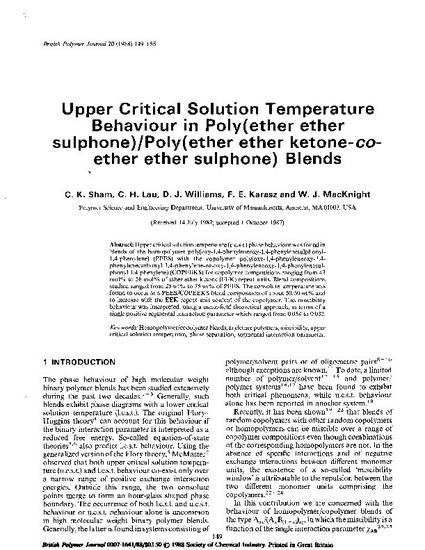 Article
Upper Critical Solution Temperature Behaviour in Poly(ether ether sulphone)/ Poly(ether ether ketone-co-ether ether sulphone) Blends
British Polymer Journal (1988)
Abstract
Upper critical solution temperature ( u.c.s.t.) phase behaviour was found in blends of the homopolymer poly(oxy-l,4-phenyleneoxy-l ,4-phenylenesulphonyl- 1,4-phenylene) (PEES) with the copolymer poly(oxy-l,4-phenyleneoxy-1,4- phen ylenecarbonyl-1,4-phenylene-co-oxy-1,4-phenyleneoxy-1,4-phenylenesul­phonyl-1,4-phenylene) (COPEEKS) for copolymer compositions ranging from 43 mo!% to 56 mo!% of ether ether ketone (EEK) repeat units. Blend compositions studied ranged from 25 wt% to 75 wt% of PEES. The consolute temperature was found to occur at a PEES/COPEEKS blend composition of about 50/50wt% and to increase with the EEK repeat unit content of the copolymer. This miscibility behaviour was interpreted, using a mean-field theoretical approach, in terms of a single positive segmental interaction parameter which ranged from 0·054 to 0·032. 
Keywords
Homopolymer/copolymer blends,
arylether polymers,
miscibility,
upper critical solution temperature,
phase separation,
segmental interaction parameter
Citation Information
William MacKnight, C. K. Sham, C. H. Lau, D. J. Williams, et al.. "Upper Critical Solution Temperature Behaviour in Poly(ether ether sulphone)/ Poly(ether ether ketone-co-ether ether sulphone) Blends"
British Polymer Journal
Vol. 20 (1988) p. 149 - 155
Available at: http://works.bepress.com/william_macknight/171/