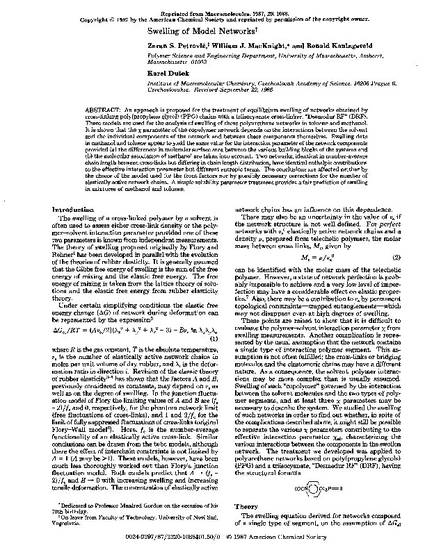 Article
Swelling of Model Networks
Macromolecules (1987)
Abstract
An approach is proposed for the treatment of equilibrium swelling of networks obtained by cross-linking poly(propylene glycol) (PPG) chains with a triisocyanate cross-linker, "Desmodur RF􀂇 (DRF). Three models are used for the analysis of swelling of these polyurethane networks in toluene and methanol. It is shown that the x parameter of the copolymer network depends on the interactions between the solvent and the individual components of the network and between these components themselves. Swelling data in methanol and toluene appear to yield the same value for the interaction parameter of the network components provided (a) the differences in molecular surface area between the various building blocks of the systems and (b) the molecular association of methanol are taken into account. Two networks, identical in number-average chain length between cross-links but differing in chain length distribution, have identical enthalpic contributions to the effective interaction parameter but different entropic terms. The conclusions are affected neither by the choice of the model used for the front factors nor by possibly necessary corrections for the number of elastically active network chains. A simple solubility parameter treatment provides a fair prediction of swelling in mixtures of methanol and toluene.
Keywords
equilibrium,
model networks,
swelling
Citation Information
William MacKnight, Zoran S. Petrovic, Ronald Koningsveld and Karel Dusek. "Swelling of Model Networks"
Macromolecules
Vol. 20 Iss. 5 (1987) p. 1088 - 1096
Available at: http://works.bepress.com/william_macknight/158/