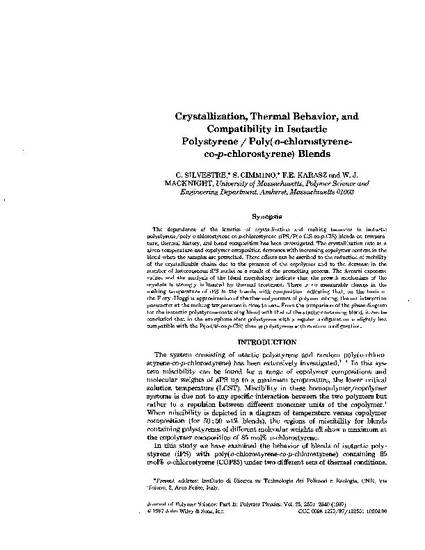 Article
Crystallization, Thermal Behavior, and Compatibility in Isotactic Polystyrene/Poly(o-chlorostyrene-co-p-chlorostyrene) Blends
Journal of Polymer Science: Part B: Polymer Physics (1987)
Abstract
The dependence of the kinetics of crystallization and melting behavior in isotactic polystyrene/poly-o-chlorostyrene-co-p-chlorostyrene (iPS /P( o-CIS-co-p-ClS) blends on tempera­ture, thermal history, and blend composition has been investigated. The crystallization rate at a given temperature and copolymer composition decreases with increasing copolymer content in the blend when the samples are premelted. These effects can be ascribed to the reduction of mobility of the crystallizable chains due to the presence of the copolymer and to the decrease in the number of heterogenous iPS nuclei as a result of the premelting process. The Avrami exponent values and the analysis of the blend morphology indicate that the growth mechanism of the crystals is strongly influenced by thermal treatment. There is no measurable change in the melting temperature of iPS in the blends, with composition indicating that, on the basis of the Flory-Huggins approximation of the thermodynamics of polymer mixing, the net interaction parameter at the melting temperature is close to zero. From the comparison of the phase diagram for the isotactic polystyrene-containing blend with that of the atactic-containing blend, it can be concluded that in the amorphous state polystyrene with a regular configuration is slightly less compatible with the P( o-CIS-co-p-CIS) than is polystyrene with random configuration. 
Keywords
Crystallization,
Thermal Behavior,
Compatibility,
Isotactic Polystyrene,
Poly(o-chlorostyrene-co-p-chlorostyrene),
blends
Citation Information
William MacKnight, C. Silvestre, S. Cimmino and F. E. Karasz. "Crystallization, Thermal Behavior, and Compatibility in Isotactic Polystyrene/Poly(o-chlorostyrene-co-p-chlorostyrene) Blends"
Journal of Polymer Science: Part B: Polymer Physics
Vol. 25 (1987) p. 2531 - 2540
Available at: http://works.bepress.com/william_macknight/145/