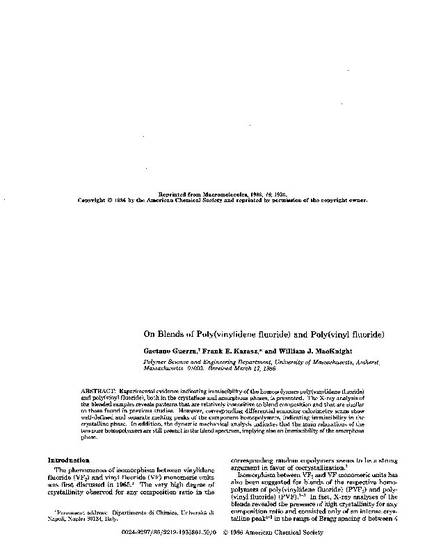 Article
On Blends of Poly(vinylidene fluoride) and Poly(vinyl fluoride)
Macromolecules (1986)
Abstract
 Experimental evidence indicating immiscibility of the homopolymers poly(vinylidene fluoride) and poly(vinyl fluoride), both in the crystalline and amorphous phases, is presented. The X-ray analysis of the blended samples reveals patterns that are relatively insensitive to blend composition and that are similar to those found in previous studies. However, corresponding differential scanning calorimetry scans show well-defined and separate melting peaks of the component homopolymers, indicating immiscibility in the crystalline phase. In addition, the dynamic mechanical analysis indicates that the main relaxations of the two pure homopolymers are still present in the blend spectrum, implying also an immiscibility of the amorphous phase. 
Keywords
Blends,
Poly(vinylidene fluoride),
Poly(vinyl fluoride)
Citation Information
William MacKnight, Gaetano Guerra and F. E. Karasz. "On Blends of Poly(vinylidene fluoride) and Poly(vinyl fluoride)"
Macromolecules
Vol. 19 (1986) p. 1936 - 1938
Available at: http://works.bepress.com/william_macknight/133/