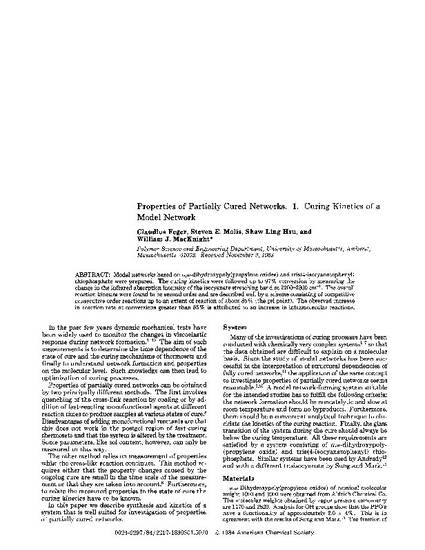 Article
Properties of Parially Cured Networks. 1. Curing Kinetics of a Model Network
Macromolecules (1984)
Abstract
Model networks based on a,w-dihydroxypoly(propylene oxides) and tris(4-isocyanatophenyl) 
thiophosphate were prepared. The curing kinetics were followed up to 97% conversion by measuring the 
change in the infrared absorption intensity of the isocyanate stretching band at 2200-23?0 cm·1. The ov􀄖􀄗all reaction kinetics were found to be second order and are described well by a scheme cons1stmg _ of competitive 
consecutive order reactions up to an extent of reaction of about 85% (the gel point). The observed inc􀄫ease in reaction rate at conversions greater than 85% is attributed to an increase in intramolecular reactions.
Keywords
Properties,
Partially Cured,
Networks,
Kinetics,
Model Network
Citation Information
William MacKnight. "Properties of Parially Cured Networks. 1. Curing Kinetics of a Model Network"
Macromolecules
Vol. 17 (1984) p. 1830 - 1834
Available at: http://works.bepress.com/william_macknight/117/