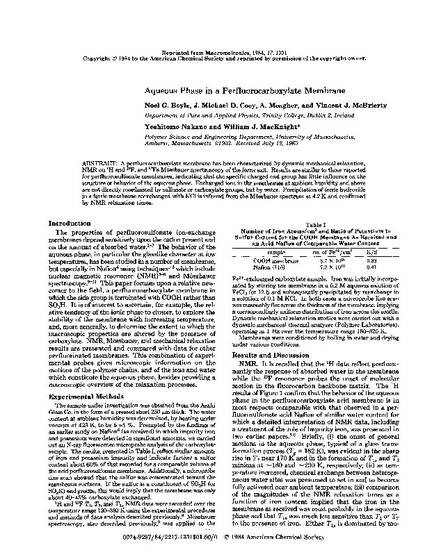 Article
Aqueous Phase in a Perfluorocarboxylate Membrane
Macromolecules (1984)
Abstract
A perfluorocarboxylate membrane has been characterized by dynamic mechanical relaxation, NMR on 1H and 19F, and 57Fe Mossbauer spectroscopy of the ferric salt. Results are similar to those reported for perfluorosulfonate membranes, indicating that the specific charged end group has little influence on the structure or behavior of the aqueous phase. Exchanged ions in the membranes at ambient humidity and above are not directly coordinated by sulfonate or carboxylate groups, but by water. Precipitation of ferric hydroxide in a ferric membrane reexchanged with KCl is inferred from the Mossbauer spectrum at 4.2 K and confirmed by NMR relaxation times. 
Keywords
Aqueous,
Phase,
Perfluorocarboxylate,
Membrane
Citation Information
William MacKnight, Noel G. Boyle, Michael D. Coey, A. Meagher, et al.. "Aqueous Phase in a Perfluorocarboxylate Membrane"
Macromolecules
Vol. 17 (1984) p. 1331 - 1334
Available at: http://works.bepress.com/william_macknight/112/