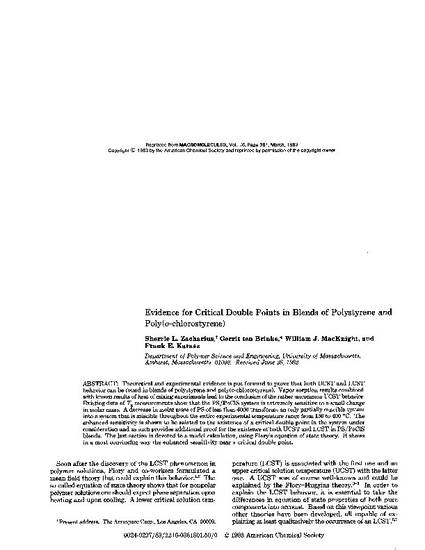 Article
Evidence for Critical Double Points in Blends of Polystyrene and Poly(o-chlorostyrene)
Macromolecules (1983)
Abstract
Theoretical and experimental evidence is put forward to prove that both UCST and LCST behavior can be found in blends of polystyrene and poly(o-chlorostyrene). Vapor sorption results combined with known results of heat of mixing experiments lead to the conclusion of the rather uncommon UCST behavior. 
Existing data of T, measurements show that the PS/PoClS system is extremely sensitive to a small change in molar mass. A decrease in molar mass of PS of less than 4000 transforms an only partially miscible system 
into a system that is miscible throughout the entire experimental temperature range from 150 to 400 °C. The enhanced sensitivity is shown to be related to the existence of a critical double point in the system under consideration and as such provides additional proof for the existence of both UCST and LCST in PS/PoClS blends. The last section is devoted to a model calculation, using Flory's equation of state theory. It shows in a most convincing way the enhanced sensitivity near a critical double point. 
Keywords
Evidence,
Critical Double Points,
Blends,
Polystyrene,
Poly(o-chlorostyrene)
Citation Information
William MacKnight, Sherrie L. Zacharius, Gerrit ten Brinke and F. E. Karasz. "Evidence for Critical Double Points in Blends of Polystyrene and Poly(o-chlorostyrene)"
Macromolecules
Vol. 16 (1983) p. 381 - 387
Available at: http://works.bepress.com/william_macknight/102/