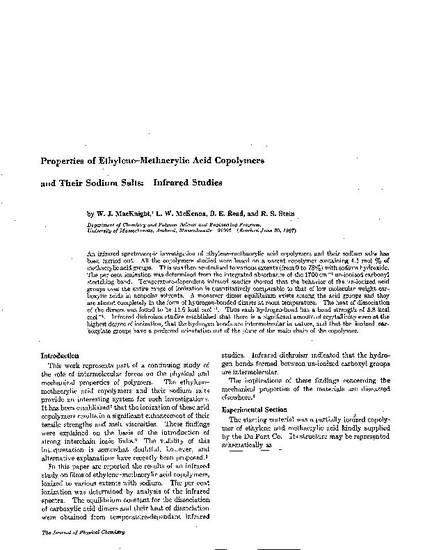 Article
Properties of Ethylene - Methacrylic Acid Copolymers and Their Sodium Salts: Infrared Studies
Journal of Applied Physics (1967)
Abstract
An infrared spectroscopic investigation of ethylene-methacrylic acid copolymers and their sodium salts has been carried out. All the copolymers studied were based on a parent copolymer containing 4.1 mol % of methacrylic acid groups. This was then neutralized to various e;d;ents (from O to 78%) with sodium hydroxide. The per cent ionization was determined from the integrated absorbance of the 1700 cm -1 un-ionized carbonyl stretching band. Temperature-dependent infrared studies showed that the behavior of the un-ionized acid groups over the entire range of ionization is quantitatively comparable to that of low molecular weight car­boxylic acids in nonpolar solvents. A monomer-dimer equilibrium exists among the acid groups and they are almost completely in the form of hydrogen-bonded dimers at room temperature. The heat of dissociation of the dimers was found to be 11.6 kcal mo1-1• Thus each hydrogen-bond has a bond strength of 5.8 kcal mo1-1. Infrared dichroism studies established that there is a significant amount of crystallinity even at the highest degree of ionization, that the hydrogen bonds are intermolecular in nature, and that the ionized car­boxylate groups have a preferred orientation out of the plane of the main chain of the copolymer. 
Keywords
Properties,
Ethylene-Methacrylic,
Acid,
Copolymers,
Sodium Salts,
Infrared Studies
Citation Information
William MacKnight, L. W. McKenna and B. E. Read. "Properties of Ethylene - Methacrylic Acid Copolymers and Their Sodium Salts: Infrared Studies"
Journal of Applied Physics
(1967)
Available at: http://works.bepress.com/william_macknight/10/