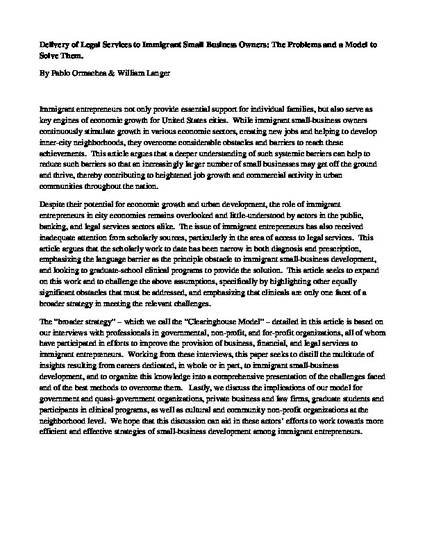 Unpublished Paper
Delivery of Legal Services to Immigrant Small Business Owners: The Problems and a Model to Solve Them
(2009)
Abstract
Delivery of Legal Services to Immigrant Small Business Owners: The Problems and a Model to Solve Them. By Pablo Ormachea & William Langer
Immigrant entrepreneurs not only provide essential support for individual families, but also serve as key engines of economic growth for United States cities. While immigrant small-business owners continuously stimulate growth in various economic sectors, creating new jobs and helping to develop inner-city neighborhoods, they overcome considerable obstacles and barriers to reach these achievements. This article argues that a deeper understanding of such systemic barriers can help to reduce such barriers so that an increasingly larger number of small businesses may get off the ground and thrive, thereby contributing to heightened job growth and commercial activity in urban communities throughout the nation.
Despite their potential for economic growth and urban development, the role of immigrant entrepreneurs in city economies remains overlooked and little-understood by actors in the public, banking, and legal services sectors alike. The issue of immigrant entrepreneurs has also received inadequate attention from scholarly sources, particularly in the area of access to legal services. This article argues that the scholarly work to date has been narrow in both diagnosis and prescription, emphasizing the language barrier as the principle obstacle to immigrant small-business development, and looking to graduate-school clinical programs to provide the solution. This article seeks to expand on this work and to challenge the above assumptions, specifically by highlighting other equally significant obstacles that must be addressed, and emphasizing that clinicals are only one facet of a broader strategy in meeting the relevant challenges.
The "broader strategy" – which we call the "Clearinghouse Model" – detailed in this article is based on our interviews with professionals in governmental, non-profit, and for-profit organizations, all of whom have participated in efforts to improve the provision of business, financial, and legal services to immigrant entrepreneurs. Working from these interviews, this paper seeks to distill the multitude of insights resulting from careers dedicated, in whole or in part, to immigrant small-business development, and to organize this knowledge into a comprehensive presentation of the challenges faced and of the best methods to overcome them. Lastly, we discuss the implications of our model for government and quasi-government organizations, private business and law firms, graduate students and participants in clinical programs, as well as cultural and community non-profit organizations at the neighborhood level. We hope that this discussion can aid in these actors' efforts to work towards more efficient and effective strategies of small-business development among immigrant entrepreneurs.
Keywords
Small Business,
Small Business Development,
Economic Development,
Urban Development,
Community Development,
Immigrant Small Business,
Immigrants,
Latino Immigrants
Citation Information
William A Langer and Pablo A Ormachea. "Delivery of Legal Services to Immigrant Small Business Owners: The Problems and a Model to Solve Them" (2009)
Available at: http://works.bepress.com/william_langer/3/