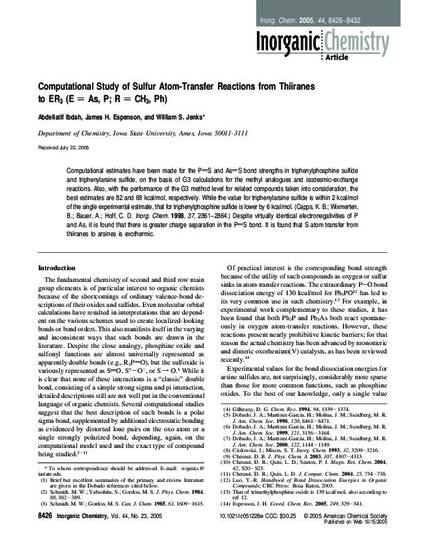 Article
Computational Study of Sulfur Atom-Transfer Reactions from Thiiranes to ER3 (E = As, P; R = CH3, Ph)
Inorganic Chemistry
Publication Version
Published Version
Publication Date
10-15-2005
Abstract
Computational estimates have been made for the PS and AsS bond strengths in triphenylphosphine sulfide and triphenylarsine sulfide, on the basis of G3 calculations for the methyl analogues and isodesmic-exchange reactions. Also, with the performance of the G3 method level for related compounds taken into consideration, the best estimates are 82 and 68 kcal/mol, respectively. While the value for triphenylarsine sulfide is within 2 kcal/mol of the single experimental estimate, that for triphenylphosphine sulfide is lower by 6 kcal/mol. (Capps, K. B.; Wixmerten, B.; Bauer, A.; Hoff, C. D. Inorg. Chem. 1998, 37, 2861−2864.) Despite virtually identical electronegativities of P and As, it is found that there is greater charge separation in the PS bond. It is found that S atom transfer from thiiranes to arsines is exothermic.
Rights
One-time permission is granted only for the use specified in your request. No additional uses are granted (such as derivative works or other editions). For any other uses, please submit a new request.
Copyright Owner
American Chemical Society
File Format
application/pdf
Citation Information
Abdellatif Ibdah, James H. Espenson and William S. Jenks. "Computational Study of Sulfur Atom-Transfer Reactions from Thiiranes to ER3 (E = As, P; R = CH3, Ph)"
Inorganic Chemistry
Vol. 44 Iss. 23 (2005) p. 8426 - 8432
Available at: http://works.bepress.com/william_jenks/14/