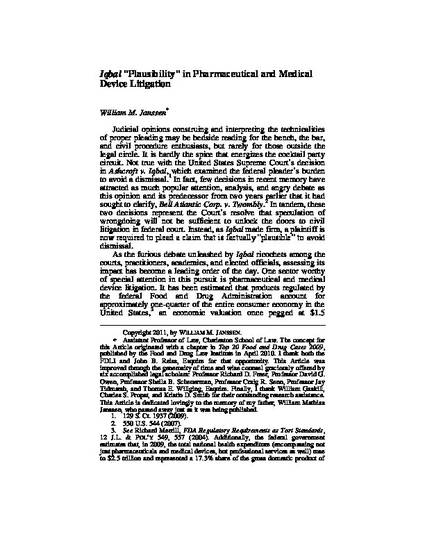 Article
Iqbal Plausibility in Pharmaceutical and Medical Device Litigation
Louisiana Law Review (2011)
Abstract
This Article studied the actual effect of the United States Supreme Court's decision in Ashcroft v. Iqbal on the cohort of more than 264 federal pharmaceutical and medical device cases of every type, released from the day of the decision in Iqbal through August 31, 2010. The results of this study of more than 15 months of case law suggest that Iqbal is not having a dramatic impact on this cohort, although its impact cannot be conclusively dismissed as inconsequential either. There have been aggressive applications of Iqbal on occasion. In the 21.2% of the time when Iqbal appears facially to be impactful, a closer examination reveals that this observed effect is, in large measure, decreasing in incidence, coupled with an ability for correction, and frequently avoidable through accessible sources of information. Moreover, it is possible that those perceived effects may be phantoms, because repeated, longstanding, and frequently cited federal precedent among the lower federal courts may well have led to functionally identical results even without Iqbal's emergence.
Citation Information
William M Janssen. "Iqbal Plausibility in Pharmaceutical and Medical Device Litigation"
Louisiana Law Review
Vol. 71 (2011)
Available at: http://works.bepress.com/william_janssen/15/