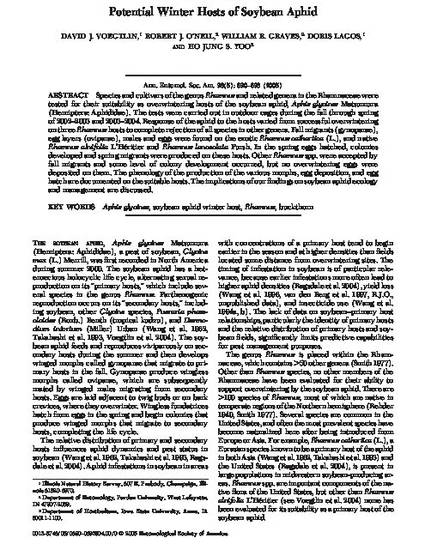 Article
Potential Winter Hosts of Soybean Aphid
Annals of the Entomological Society of America
Publication Date
9-1-2005
DOI
10.1603/0013-8746(2005)098[0690:PWHOSA]2.0.CO;2
Abstract
Species and cultivars of the genus Rhamnus and related genera in the Rhamnaceae were tested for their suitability as overwintering hosts of the soybean aphid, Aphis glycines Matsumura (Hemiptera: Aphididae). The tests were carried out in outdoor cages during the fall through spring of 2002–2003 and 2003–2004. Response of the aphid to the hosts varied from successful overwintering on three Rhamnus hosts to complete rejection of all species in other genera. Fall migrants (gynoparae), egg layers (oviparae), males and eggs were found on the exotic Rhamnus cathartica (L.), and native Rhamnus alnifolia L'Héritier and Rhamnus lanceolata Pursh. In the spring eggs hatched, colonies developed and spring migrants were produced on these hosts. Other Rhamnusspp. were accepted by fall migrants and some level of colony development occurred, but no overwintering eggs were deposited on them. The phenology of the production of the various morphs, egg deposition, and egg hatch are documented on the suitable hosts. The implications of our findings on soybean aphid ecology and management are discussed.
Rights
This article is the copyright property of the Entomological Society of America and may not be used for any commercial or other private purpose without specific written permission of the Entomological Society of America.
Copyright Owner
Entomological Society of America
File Format
application/pdf
Citation Information
David J. Voegtlin, Robert J. O'Neil, William R. Graves, Doris Lagos, et al.. "Potential Winter Hosts of Soybean Aphid"
Annals of the Entomological Society of America
Vol. 98 Iss. 5 (2005) p. 690 - 693
Available at: http://works.bepress.com/william_graves/1/