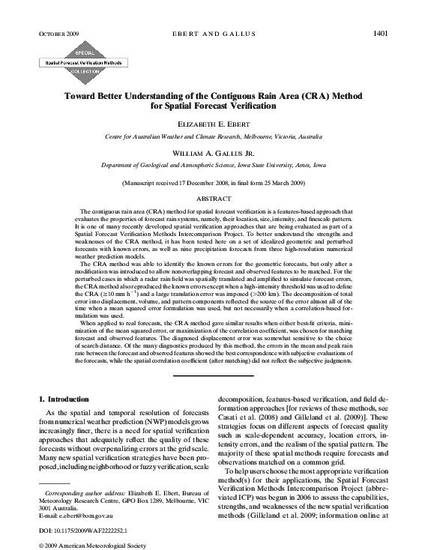 Article
Toward better understanding of the contiguous rain area (CRA) method for spatial forecast verification
Weather and Forecasting
Publication Version
Published Version
Publication Date
10-1-2009
DOI
10.1175/2009WAF2222252.1
Abstract
The contiguous rain area (CRA) method for spatial forecast verification is a features-based approach that evaluates the properties of forecast rain systems, namely, their location, size, intensity, and finescale pattern. It is one of many recently developed spatial verification approaches that are being evaluated as part of a Spatial Forecast Verification Methods Intercomparison Project. To better understand the strengths and weaknesses of the CRA method, it has been tested here on a set of idealized geometric and perturbed forecasts with known errors, as well as nine precipitation forecasts from three high-resolution numerical weather prediction models. The CRA method was able to identify the known errors for the geometric forecasts, but only after a modification was introduced to allow nonoverlapping forecast and observed features to be matched. For the perturbed cases in which a radar rain field was spatially translated and amplified to simulate forecast errors, theCRAmethod also reproduced the known errors except when a high-intensity threshold was used to define the CRA ($10 mm h21) and a large translation error was imposed (.200 km). The decomposition of total error into displacement, volume, and pattern components reflected the source of the error almost all of the time when a mean squared error formulation was used, but not necessarily when a correlation-based formulation was used. When applied to real forecasts, the CRA method gave similar results when either best-fit criteria, minimization of the mean squared error, or maximization of the correlation coefficient, was chosen for matching forecast and observed features. The diagnosed displacement error was somewhat sensitive to the choice of search distance. Of the many diagnostics produced by this method, the errors in the mean and peak rain rate between the forecast and observed features showed the best correspondence with subjective evaluations of the forecasts, while the spatial correlation coefficient (after matching) did not reflect the subjective judgments.
Copyright Owner
American Meteorological Society
File Format
application/pdf
Citation Information
Elizabeth E. Ebert and William A. Gallus. "Toward better understanding of the contiguous rain area (CRA) method for spatial forecast verification"
Weather and Forecasting
Vol. 24 Iss. 5 (2009) p. 1401 - 1415
Available at: http://works.bepress.com/william_gallus/21/