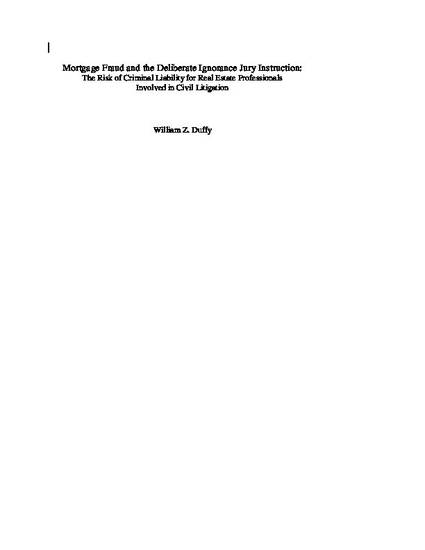 Unpublished Paper
Mortgage Fraud and the Deliberate Ignorance Jury Instruction: The Risk of Criminal Liability for Real Estate Professionals Involved in Civil Litigation
ExpressO (2008)
Abstract
Those involved in the purchase or sale of real estate risk becoming entangled in a scheme to defraud a financial institution. These individuals can include the escrow agent, mortgage broker, realtor, seller, appraiser and developer. In many instances, criminal charges related to the alleged fraud will be preceded by a civil lawsuit initiated by the lending institution against the perpetrators of the fraud and anyone else connected to the transaction. When evaluating these cases, civil counsel should be aware that government prosecutors will argue that "red flags" alerted the defendant to the fraud, but the defendant purposefully closed his eyes to avoid knowledge of the crime. Recent cases illustrate the low standard for issuance of this instruction, as well as the danger it poses to those who were involved solely due to their own negligence. Attorneys who represent individuals being investigated for alleged involvement in mortgage fraud must be aware of the risk of criminal prosecution and take appropriate actions before the government obtains an indictment.
Publication Date
July 12, 2008
Citation Information
William Z Duffy. "Mortgage Fraud and the Deliberate Ignorance Jury Instruction: The Risk of Criminal Liability for Real Estate Professionals Involved in Civil Litigation"
ExpressO
(2008)
Available at: http://works.bepress.com/william_duffy/1/