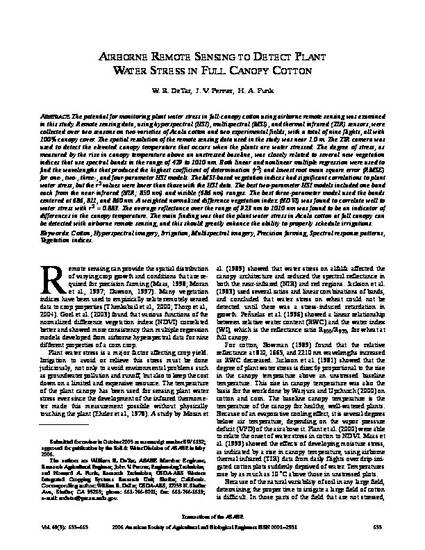 Article
Airborn Remote Sensing to Detect Plant Water Stress in Full Canopy Cotton
Trans. of the ASABE (2006)
Abstract
ABSTRACT. The potential for monitoring plant water stress in full-canopy cotton using airborne remote sensing was examined in this study. Remote sensing data, using hyperspectral (HSI), multispectral (MSI), and thermal infrared (TIR) sensors, were collected over two seasons on two varieties of Acala cotton and two experimental fields, with a total of nine flights, all with 100% canopy cover. The spatial resolution of the remote sensing data used in the study was near 1.0 m. The TIR camera was used to detect the elevated canopy temperature that occurs when the plants are water stressed. The degree of stress, as measured by the rise in canopy temperature above an unstressed baseline, was closely related to several new vegetation indices that use spectral bands in the range of 429 to 1010 nm. Both linear and nonlinear multiple regression were used to find the wavelengths that produced the highest coefficient of determination (r2) and lowest root mean square error (RMSE) for one-, two-, three-, and four-parameter HSI models. The MSI-based vegetation indices had significant correlations to plant water stress, but the r2 values were lower than those with the HSI data. The best two-parameter HSI models included one band each from the near-infrared (NIR; 850 nm) and visible (686 nm) ranges. The best three-parameter model used the bands centered at 686, 811, and 860 nm. A weighted normalized difference vegetation index (NDVI) was found to correlate well to water stress with r2 = 0.883. The average reflectance over the range of 923 nm to 1010 nm was found to be an indicator of differences in the canopy temperature. The main finding was that the plant water stress in Acala cotton at full canopy can be detected with airborne remote sensing, and this should greatly enhance the ability to properly schedule irrigations.
Keywords
Cotton,
Hyperspectral imagery,
Irrigation,
Multispectral imagery,
Precision farming,
Spectral response patterns
Citation Information
William R DeTar, J. V. Penner and H. A. Funk. "Airborn Remote Sensing to Detect Plant Water Stress in Full Canopy Cotton"
Trans. of the ASABE
Vol. 49 Iss. 3 (2006)
Available at: http://works.bepress.com/william_detar/2/