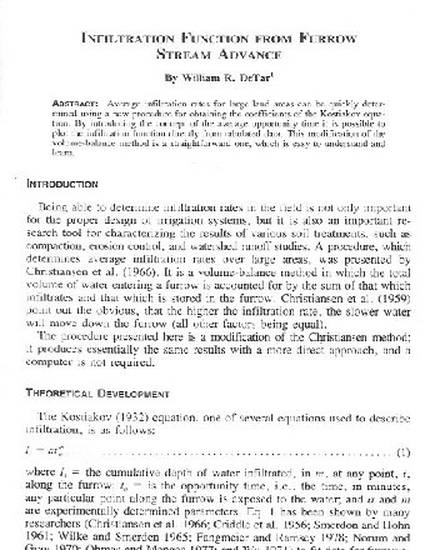 Article
Infiltration Function from Furrow Stream Advance
J. Irrig. and Drain. Engineering (1989)
Abstract
Average infiltration rates for large land areas can be quickly determined using a new procedure for obtaining the coefficients of the Kostiakov equation. By introducing the concept of the average opportunity time it is possible to plot the infiltration function directly from tabulated data. This modification of the volume-balance method is a staightforward one, which is easy to understand and learn.
Citation Information
William R DeTar. "Infiltration Function from Furrow Stream Advance"
J. Irrig. and Drain. Engineering
Vol. 115 Iss. 4 (1989)
Available at: http://works.bepress.com/william_detar/17/