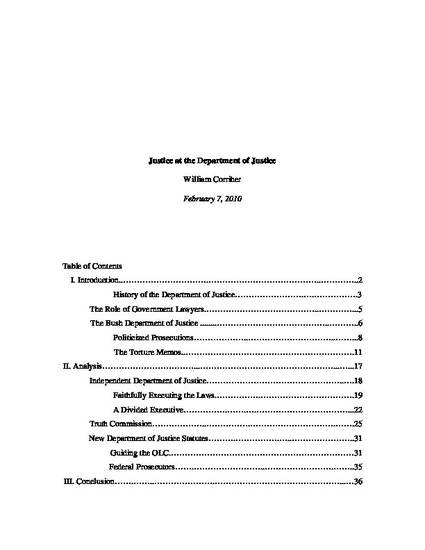 Unpublished Paper
Justice at the Department of Justice
ExpressO (2010)
Abstract
The paper discusses the continuing impact of two controversial actions by the Bush administration's Department of Justice: the OLC's enabling of torture and the policitization of federal prosecutions. The paper critiques several proposals for reform, including an independent Department of Justice, a "Truth Commission" to investigate the Bush administration, and new statutes governing the Department and its relationship with the President. The paper argues that an independent Department would likely be ruled unconstitutional under separation-of-powers principles. The paper concludes that the goal of any reform should be to ensure transparency in executive branch actions. While a "Truth Commission" can guarantee transparency in hindsight, Congress should demand more concurrent transparency within the executive branch. If the political check on executive power is to be effective, the public must learn of Presidential abuses as quickly as possible.
Publication Date
February 7, 2010
Citation Information
William D Corriher. "Justice at the Department of Justice"
ExpressO
(2010)
Available at: http://works.bepress.com/william_corriher/1/