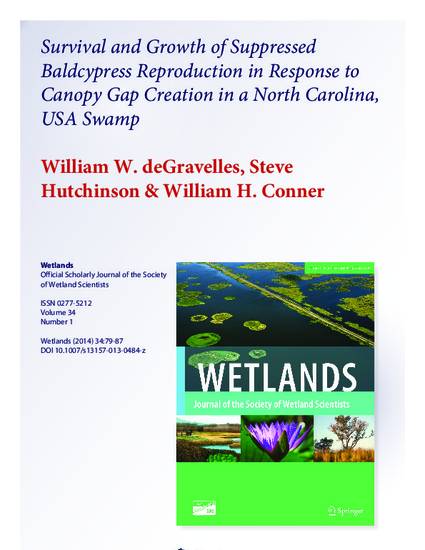 Article
Survival and Growth of Suppressed Baldcypress Reproduction in Response to Canopy Gap Creation in a North Carolina, USA Swamp
Wetlands (2014)
Abstract
Little is known of the ability of bald cypress (
Taxodium distichum
(L.) L.C. Rich.) in a suppressed sub canopy position to respond to increases in light. We measured 3 years of diameter growth response of long-suppressed baldcypress saplings to canopy gap creation in a hydrologically altered, water tupelo-dominated backswamp of the lower
Roanoke River floodplain in eastern North Carolina. Baldcypress saplings responded strongly to gap creation.
Saplings showed a significant positive growth trend, with mean basal area growth in gaps expanding from 2.5 cm
2
in
year one, 4 times that of control saplings, to 8.5 cm
2
in year three, 20 times that of control saplings. Within canopy gaps, a positive trend between growth and initial sapling diameter was evident, while such a trend among controls was non-existent. Mortality was similar between gap and control saplings after 1 year, but by year three gap sapling mortality had declined to 2 %, while control mortality increased to 16 %. It is clear that long-suppressed baldcypress, sometimes at the brink of death, are able to respond vigorously to an increase in light from canopy gaps with decreased mortality and increased growth. This has important implications for wetlands requiring restoration
or baldcypress management within the framework of two-age or uneven-aged silvicultural systems.
Keywords
Forested wetlands,
baldcypress,
release,
sapling growth,
Mortality
Publication Date
Spring January 1, 2014
Citation Information
William deGravelles, Steve Hutchinson and William Conner. "Survival and Growth of Suppressed Baldcypress Reproduction in Response to Canopy Gap Creation in a North Carolina, USA Swamp"
Wetlands
Vol. 34 (2014) p. 79 - 87
Available at: http://works.bepress.com/william_conner1/29/