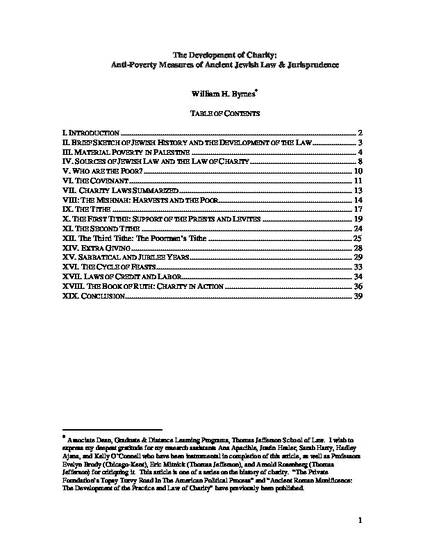 Unpublished Paper
The Development of Charity: Anti-Poverty Measures of Ancient Jewish Law & Jurisprudence
ExpressO (2011)
Abstract
This article describes the ancient Jewish practices, codified in Biblical law and later legal commentary, to protect the needy. The Jews' anti-poverty measures - including regulation of agriculture, loans, working conditions, and customs for sharing at feasts - were a significant development in the jurisprudence of charity. The first half begins with a brief history of ancient Jewish civilization, providing context for the development of charity by exploring the living conditions of the poor. The second half concludes with a description of the Jewish laws, Mishnah and Talmudic commentary, as well as the practice and codification of Rabbinical teaching that establish a jurisprudence of charity. The conclusion posits that this ancient jurisprudence is the root of the American modern philanthropic idea, identifying modern equivalent practices to those of the Hebrews.
Keywords
charity,
Jewish law,
exempt organizations,
gifts,
social welfare,
legal history
Publication Date
October 12, 2011
Citation Information
William H Byrnes. "The Development of Charity: Anti-Poverty Measures of Ancient Jewish Law & Jurisprudence"
ExpressO
(2011)
Available at: http://works.bepress.com/william_byrnes/3/