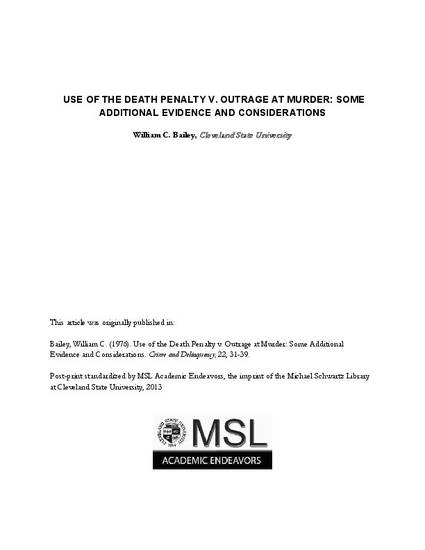 Article
Use of Death Penalty v. Outrage at Murder: Some Additional Evidence and Considerations
Crime & Delinquency
Publication Date
1-1-1976
Abstract
In this paper we summarize and analyze Glaser and Zeigler's attempt to empirically examine three explanations of why murder rates have generally been highest in states where capital punishment has been used the most. Examination shows their analysis to suffer from serious methodological shortcomings. Neither their data nor additional evidence presented here lends much support to their conclusion that (1) both frequent use of the death penalty and high murder rates are consequences of a low valuation of life and (2) homicide rates can be reduced by abolition of the death penalty.
DOI
10.1177/001112877602200104
Publisher's Statement
(c) 1976 Sage Publications
Citation Information
William C. Bailey. (1976). Use of Death Penalty v. Outrage at Murder: Some Additional Evidence and Considerations. Crime & Delinquency, 22, 1, 31-39.