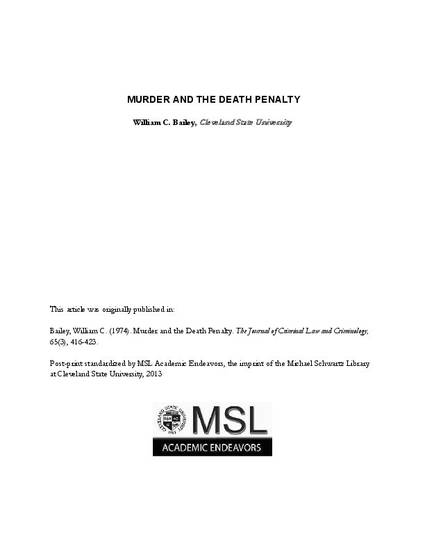 Article
Murder and Death Penalty
Journal of Criminal Law & Criminology
Publication Date
9-1-1974
Abstract
The article examines the relationship between homicide and capital punishment. Studies by several researches have convinced most students of homicide that the ineffectiveness of the death penalty as a deterrent to murder has been demonstrated conclusively. Not all remain convinced, however, of the conclusiveness of the evidence. Comparative examinations of homicide rates before and after abolition, and in some cases, the restoration of the death penalty, have also questioned the efficacy of capital punishment. In sum, the evidence reported here falls within the pattern of previous death penalty investigations which span five decades.
Publisher's Statement
(c) 1974 University of Illinois Press
Citation Information
Bailey, W. C. (1974). Murder and the Death Penalty. Journal Of Criminal Law & Criminology, 65(3), 416-423.