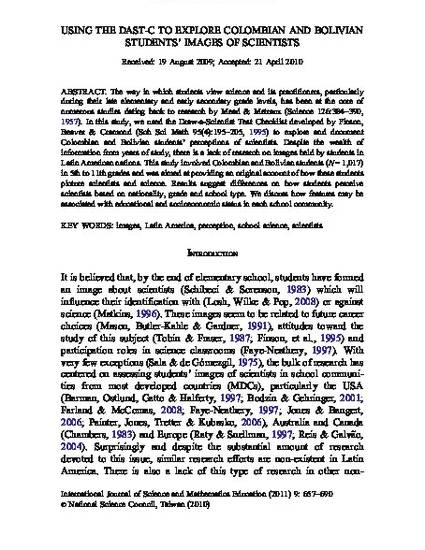 Article
Using the DAST-C to explore Colombian and Bolivian students' images of scientists
International Journal of Science and Mathematics Education (2011)
Abstract
The way in which students view science and its practitioners, particularly during their late elementary and early secondary grade levels, has been at the core of numerous studies dating back to research by Mead & Metraux (Science 126:384–390, 1957). In this study, we used the Draw-a-Scientist Test Checklist developed by Finson,
Beaver & Cramond (Sch Sci Math 95(4):195–205, 1995) to explore and document Colombian and Bolivian students' perceptions of scientists. Despite the wealth of information from years of study, there is a lack of research on images held by students in Latin American nations. This study involved Colombian and Bolivian students (N = 1,017) in 5th to 11th grades and was aimed at providing an original account of how these students
picture scientists and science. Results suggest differences on how students perceive scientists based on nationality, grade and school type. We discuss how features may be associated with educational and socioeconomic status in each school community.
Keywords
Images,
Latin America,
Perception,
School Science,
Scientists
Publication Date
Summer June 1, 2011
Citation Information
Medina-Jerez, W., Middleton, K. V. & Orihuela-Rabaza, W. (2011). Using the DAST-C to explore Colombian and Bolivian students' perceptions of scientists. International Journal of Science and Mathematics Education. 9(3), 657-690.