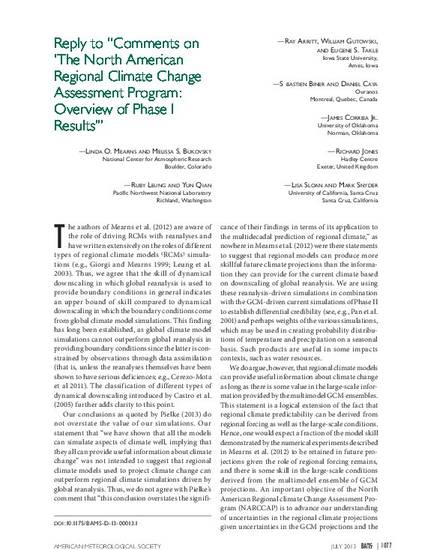 Article
Reply to "Comments on 'The North American Regional Climate Change Assessment Program: Overview of Phase I Results'"
Bulletin of the American Meteorological Society
Publication Version
Published Version
Publication Date
7-1-2013
DOI
10.1175/BAMS-D-13-00013.1
Abstract
The authors of Mearns et al. (2012) are aware of the role of driving RCMs with reanalyses and have written extensively on the roles of different types of regional climate models (RCMs) simulations (e.g., Giorgi and Mearns 1999; Leung et al. 2003). Thus, we agree that the skill of dynamical downscaling in which global reanalysis is used to provide boundary conditions in general indicates an upper bound of skill compared to dynamical downscaling in which the boundary conditions come from global climate model simulations. This finding has long been established, as global climate model simulations cannot outperform global reanalysis in providing boundary conditions since the latter is constrained by observations through data assimilation (that is, unless the reanalyses themselves have been shown to have serious deficiences; e.g., Cerezo-Mota et al 2011). The classification of different types of dynamical downscaling introduced by Castro et al. (2005) further adds clarity to this point.
Copyright Owner
American Meteorological Society
File Format
application/pdf
Citation Information
Linda O. Mearns, Melissa S. Bukovsky, Ruby Leung, Yun Qian, et al.. "Reply to "Comments on 'The North American Regional Climate Change Assessment Program: Overview of Phase I Results'""
Bulletin of the American Meteorological Society
Vol. 94 Iss. 7 (2013) p. 1077 - 1078
Available at: http://works.bepress.com/william-gutowski/57/