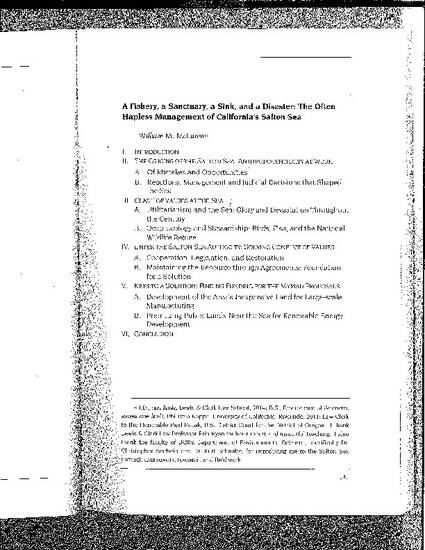 Article
A Fishery, A Sanctuary, A Sink, and a Disaster: The Often Hapless Management of California's Salton Sea
Hastings West-Northwest Journal of Environmental Law & Policy (2015)
Abstract
Over a century ago, a series of questionable management decisions and water-diversion engineering mistakes in Southern California produced an "unnatural" waterbody called the Salton Sea. Since then, the Sea has served as a recreational destination with fluctuating popularity, a sanctuary for migratory birds, a sink for agricultural runoff and urban wastewater, and one of the most productive tilapia and corvina fisheries in the United States. However, the Sea's resources and associated uses have steadily deteriorated since its formation.
The contrast between the ethics that drove resource management decisions at the time of the Salton Sea's formation to those employed in modern times is stark. Those differences, in addition to the evolution of management practices and legislation controlling the fate of the Sea, create a fascinating case study of the complexities associated with managing a "manmade" resource with both intrinsic and extractive values. To explore these concepts, this article will analyze the Salton Sea's unique origin story and historical management. It will then explore some of the value conflicts regarding the Sea's many resources. Next, it will consider the ethical and management approaches through which legislative and restoration efforts have been carried out thus far. Finally, it will outline creative solutions to fund efforts to cure the Sea's continuing problems.
This analysis further serves to illustrate that a predominantly anthropocentric resource management approach brought about the Salton Sea as it is today, at least to the extent its fate has been determined by humans. Beyond that lesson, though, an important question arises: would a more balanced management approach have resulted in a better outcome for all stakeholders? The answer to this question is almost inarguably yes. Had all of the Sea's features been accounted for when the important decisions were made, its future viability would be less questionable and its current impairments would be less severe. Thus, to inform proper management practices for the future, lessons first must be drawn from the mistakes of the past.
Keywords
Resource,
Natural Resource,
Management,
Water,
Wildlife,
Habitat,
Endangered,
Agriculture,
Runoff,
California,
Salton,
Salton Sea,
Imperial Valley
Publication Date
Summer 2015
Citation Information
William M McLaren. "A Fishery, A Sanctuary, A Sink, and a Disaster: The Often Hapless Management of California's Salton Sea"
Hastings West-Northwest Journal of Environmental Law & Policy
Vol. 21 Iss. 2 (2015)
Available at: http://works.bepress.com/will_mclaren/2/