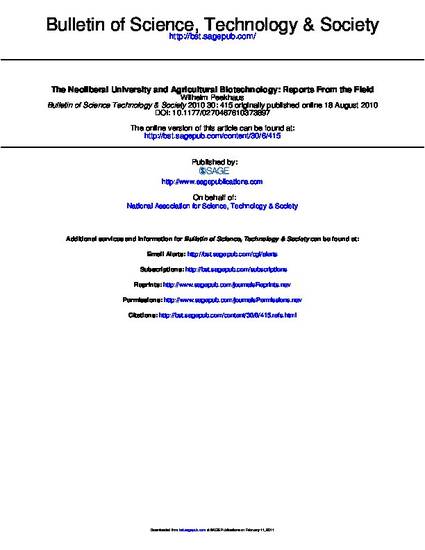 Article
The neoliberal university and agricultural biotechnology: Reports from the field
The Bulletin of Science, Technology & Society (2010)
Abstract
Following in the footsteps of a variety of previous research that elaborates on the current state of affairs in academia, this article sets out the argument that neoliberalism and its corresponding iterations of science and technology and research funding policies in this country have implications for the types of knowledge that can be generated within and communicated without contemporary institutions of higher education. Using agricultural biotechnology as the lens through which to focus analysis, the article outlines a number of empirical examples that illustrate how the free flow of knowledge either critical of or not readily appropriated by capital is being impeded.
Keywords
science and technology,
science communication,
agricultural biotechnology,
neoliberalism,
higher education,
academia
Citation Information
Wilhelm Peekhaus. "The neoliberal university and agricultural biotechnology: Reports from the field"
The Bulletin of Science, Technology & Society
Vol. 30 (2010)
Available at: http://works.bepress.com/wilhelm_peekhaus/5/