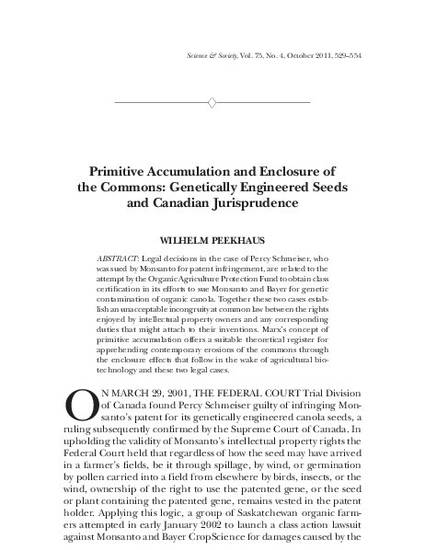 Article
Primitive accumulation and enclosure of the commons: Genetically engineered seeds and Canadian jurisprudence
Science & Society (2011)
Abstract
This paper juxtaposes the legal decisions made in the case of Percy Schmeiser, who was sued by Monsanto for patent infringement, against the attempt by the Organic Agriculture Protection Fund to obtain class certification in its efforts to sue Monsanto and Bayer for genetic contamination of organic canola. Together these two cases establish an unacceptable incongruity at common law between the rights enjoyed by intellectual property owners and any corresponding duties that might attach to their inventions. I suggest that Marx's concept of primitive accumulation offers a suitable theoretical register for apprehending contemporary erosions of the commons through the enclosure effects that follow in the wake of agricultural biotechnology and these two legal cases.
Keywords
genetically engineered seeds,
genetic contamination,
adventitious presence,
primitive accumulation,
commons,
Marx,
patents,
Monsanto,
Bayer CropScience,
Percy Schmeiser,
Organic Agriculture Protection Fund,
Canada
Publication Date
October, 2011
Citation Information
Wilhelm Peekhaus. "Primitive accumulation and enclosure of the commons: Genetically engineered seeds and Canadian jurisprudence"
Science & Society
Vol. 75 (2011)
Available at: http://works.bepress.com/wilhelm_peekhaus/10/