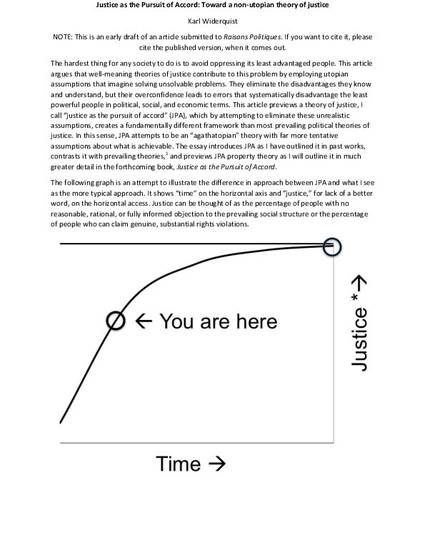 Article
The Pursuit of Accord: Toward a Theory of Justice With a Second-Best Approach to the Insider-Outsider Problem
Raisons Politiques (2019)
Abstract
The hardest thing for any society to do is to avoid oppressing its least advantaged individuals. If we fail to find a truly inclusive set of basic principles, the social structure is not a true social contract but an insider-outsider contract. Most theories of justice offer first-best approaches to the insider-outsider problem by assuming that humans can create a basic social structure that no one could reasonably reject. This article argues that no first-best solution to the exists, and that the belief in first-best solution systematically disadvantages the least powerful people in political, social, and economic terms. The article then presents an alternative theory, called "justice as the pursuit of accord," with a second-best approach. Assuming no all social contracts are insider-outsider contracts, can anything justify a social structure? The article suggests and explains three requirements for justification under these circumstances: the widest-possible accord (literal rather than hypothetical agreement), the minimum negative impact on people who can't be brought into accord, and constant striving for greater accord.
Keywords
Justice,
Accord,
Indepentarianism,
Theory of Justice,
Property rights,
Freedom,
Basic Income
Publication Date
Fall 2019
Citation Information
Karl Widerquist. "The Pursuit of Accord: Toward a Theory of Justice With a Second-Best Approach to the Insider-Outsider Problem"
Raisons Politiques
(2019)
Available at: http://works.bepress.com/widerquist/76/