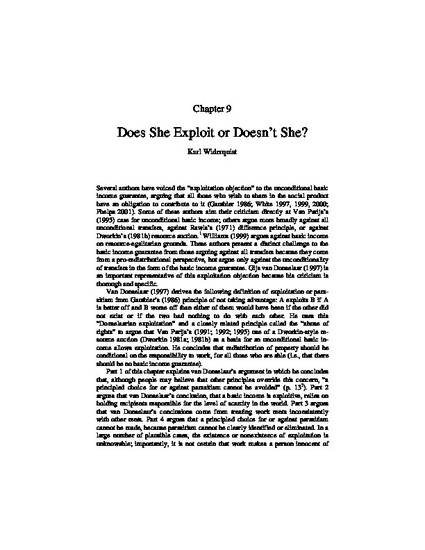 Contribution to Book
Does She Exploit or Doesn't She?
The Ethics and Economics of the Basic Income Guarantee (2005)
Abstract
Gijs Van Donselaar uses a Guathier-based definition of exploitation (A exploits B if A is better off and B worse off than either of them would have been had the other not existed) and a related concept the abuse of rights in a series of two-person examples to demonstrate that an unconditional basic income can be parasitic and to make the case that everyone has both a right and responsibility to work. This paper argues that the same conclusions cannot be made in a world of more than two people. Exploitation may be indefinable, and information problems may make both of these concepts unknowable and unworkable in a multi-person world.
Keywords
Basic Income,
exploitation,
reciprocity,
distributive justice,
social justice
Editor
Widerquist, Lewis, and Pressman
Citation Information
Karl Widerquist. "Does She Exploit or Doesn't She?" Aldershot
The Ethics and Economics of the Basic Income Guarantee
(2005)
Available at: http://works.bepress.com/widerquist/13/