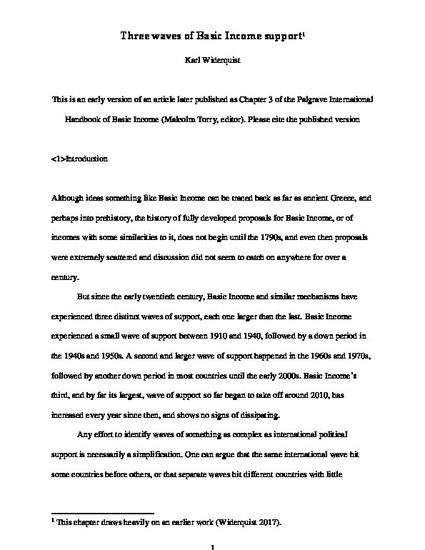 Contribution to Book
Three Waves of Basic Income Support
Palgrave International Handbook of Basic Income (2020)
Abstract
Since the early twentieth century, Basic Income and similar policies have experienced three distinct waves of support, each one larger than the last. Basic Income experienced a small wave of support between 1910 and 1940, followed by a down period in the 1940s and 1950s. A second and larger wave of support happened in the 1960s and 1970s, followed by another down period in most countries until the early 2000s. Basic Income's third, and by far its largest, wave of support so far began to take off around 2010, has increased every year since then, and shows no signs of dissipating. This chapter attempts to understand today's Basic Income movement in the context of that history. Although the future is always uncertain, the chapter argues that Basic Income supporters have good reason for optimism.
Keywords
Basic Income,
Universal Basic Income,
Third Wave
Publisher
Palgrave Macmillan
Citation Information
Karl Widerquist. "Three Waves of Basic Income Support"
Palgrave International Handbook of Basic Income
(2020)
Available at: http://works.bepress.com/widerquist/102/